Find Your Perfect Spa Experience
Our Best Spa Deals
You deserve the best, you deserve to be pampered and you deserve the pure luxury on offer on one of our exclusive spa breaks. It doesn't matter if you can only get away for the day or if you can devote a whole weekend to recharge your batteries in the best possible way with your friends, family or a loved one. Come to any one of our venues and prepare to feel what it's like to be truly pampered.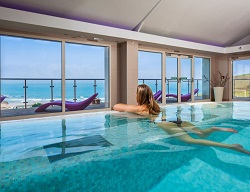 Stay In The Icons of Luxury

We work with venues all around the country and for our luxury spa breaks we insist on the best. We work with a range of four and five-star hotels around the country, including the iconic Champneys group, the five-star Mar Hall Golf & Spa near Glasgow, the Raithwaite Estate County Retreat in North Yorkshire, the Blackpool Imperial and the Bedruthan Hotel & Spa in Newquay.
These are icons in the luxury hotel world and with your booking you will get the VIP treatment. All of our spas pride themselves on their attitude; every whim will be catered for from the moment you arrive until the moment you head back to the real world.
The Best Spa Treatments

From the glamorous backdrop to the service you receive, you know that when you book through Spa & Hotel Break, you'll be living in the lap of luxury, if only for a brief while. So enjoy a leisurely breakfast before you get ready to receive the treatment you know you were born to receive.
Our spas will give you the latest treatments, from hot stone massages through to vitamin-enriched facials, to make sure you are treated like royalty. Fancy something a little left-field? Seaweed wraps, milk baths and more are on offer at a variety of locations. The individual treatments depend on which of our lavish spa hotels you select, but the bespoke nature of these locations is simply part of the charm.
You can choose to visit glamorous city centre hotels or you can escape to the country to unwind in scenic surroundings before you head to the spa for your treatment. The hotels all have a wide range of facilities and you can head for a swim and look forward to a good meal at the end of a long, not so hard day being taken care of in the spa.
Many of the hotels and spas have a combined deal where you can head to the spa while you send your other half off for a round of golf. Of course, they could join you for a manicure, too - that's entirely down to you!
A hen party with a difference


If you want to plan ahead then you could even base your hen party, or your wedding preparations, around a group deal at one of our luxurious resorts. You can send the bride off in style, or simply have her arrive on the big day looking like a million dollars. You can even give a gift voucher to the bride so she can enjoy luxury at her leisure.
You can put a little drama into your spa weekend with a themed package. A murder mystery weekend punctuated by massage treatments and facial masks might seem a little off-centre, but then the whole point is to experience a different kind of life and come out feeling like a new person. We can do that for you with a variety of themed packages, so get in touch with us and we'll talk you through the latest offers.
We work for your pleasure


The venues themselves call the shots on the latest deals, but we're always negotiating and trying to come up with special deals for you. So watch out for our weekly emails where we'll give you the lowdown on the best possible prices for a spa break that you simply might not have considered. We're always working with the leading lights and the lesser known names to come up with the best possible package at the best possible time, so make sure you've signed up with us and we'll keep you in our secret loop.
Special deals can suddenly occur due to the ebb and flow of supply and demand, or they can be on certain days of the week or times of the year when the hotels know that they simply won't be overrun with tourists or regular customers.
In the quiet times, they will put together special deals to tempt customers through the door, they may even reduce the room rate, give an upgrade or give an extra spa treatment or two as part of the package. It all depends on how generous the hotel is feeling and how determined they are to drum up business when they send their offers our way.
As part of our select group, you'll find out when we do and we have a dedicated team on a mission to sniff out the best deals, negotiate directly with our partner resorts and come up with a package that you will love. We're spa break fanatics ourselves, so we know what makes a great day or weekend trip and we're always trying to create our own dream trip at the best possible price for our most valued customers.
You won't get caught in the web


We've made it as simple as we possibly can to navigate the website and get on your dream spa getaway. Simply use the pictures to find the experience that you want, or do a geographical search to find the spa closest to you if you don't want to go on a long distance adventure. We can narrow it down to an area within your postcode or we can recommend the best in the country, the choice is entirely yours.
We want to offer a personal service. So if you don't find exactly what you're looking for by searching through the website, feel free to give us a call on our Freephone number. You can email us too and we'll be in touch as soon as we can to help take you on the spa getaway of a lifetime.