Spa Breaks Aberdeen
Welcome to your gateway to a blissful escape in Aberdeen, Scotland. If you're seeking a serene and rejuvenating experience, look no further! Nestled amidst breathtaking landscapes, our Aberdeen spa breaks offer the perfect opportunity to unwind and revitalise. Immerse yourself in the stillness of nature while indulging in top-notch spa treatments and luxury accommodations.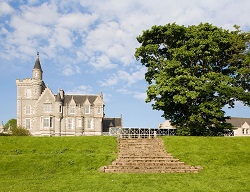 Things to do in Aberdeen during your Spa Break
Beyond the delightful spa experiences, Aberdeen offers a plethora of activities to enhance your spa break, making it even more memorable. Immerse yourself in the vibrant city life and explore its rich cultural heritage by visiting historic landmarks such as the majestic Aberdeen Castle and the awe-inspiring St. Machar's Cathedral. Wander through the cobbled streets adorned with charming architecture and feel the city's history come alive.
Nature enthusiasts will be delighted by the natural wonders surrounding Aberdeen. Take a serene stroll along the sandy shores of Balmedie Beach, where the gentle waves create a soothing symphony, or embark on a hiking adventure amidst the breathtaking landscapes of Cairngorms National Park. The verdant hills and picturesque vistas provide the perfect backdrop for moments of reflection.
Types of Spa Breaks in Aberdeen
If you're looking to kindle the romance with your partner, our couple's spa breaks in Scotland are the perfect choice. These packages provide seclusion, relaxation, and intimate moments, ensuring you both return home with cherished memories that will last a lifetime.
For those seeking a memorable group experience, our group Aberdeen spa breaks are just what you need. Gather your friends and embark on a journey of indulgence and laughter. Share pampering sessions together and create unforgettable bonds during your stay, making memories that will strengthen your friendships.
Calling all golf enthusiasts! Combine your passion for the sport with the luxury of spa treatments. Tee off at some of the finest golf courses in the region, enjoying the challenge of the game, and then unwind with soothing massages and facials. It's the perfect balance of activity and relaxation.
With a wide range of options catering to different preferences, our partnered spa resorts are committed to ensuring that each guest finds their ideal package. Whether you seek romance, camaraderie, or a mix of sports and relaxation, our meticulously crafted spa break packages offer an unforgettable experience in the heart of Aberdeen's serene beauty.
Spa Break Aberdeen Treatments
Our spa breaks in Aberdeen offer an array of treatments designed to soothe your body, mind, and soul. Our expert therapists ensure that you are pampered to the fullest, using premium skincare products and techniques. Some of our most popular treatments include:
Aromatherapy Massage - Drift into a state of pure bliss with the gentle touch of essential oils, relieving tension and promoting relaxation.
Facial Rejuvenation - Rejuvenate your skin and reveal a radiant glow with our revitalising facial treatments, tailored to your specific needs.
Hot Stone Therapy - Experience the therapeutic benefits of heated stones, easing muscle tension and promoting a sense of deep relaxation.
Hydrotherapy - Immerse yourself in the healing power of water with our hydrotherapy sessions, offering a range of soothing baths and experiences.
Embark on a journey of relaxation and rejuvenation with our exquisite spa breaks in Aberdeen. Each of our partnered spa hotels takes pride in providing a welcoming and tranquil escape for all our guests. Explore the wonders of Aberdeen, indulge in luxurious treatments, and return home feeling renewed and refreshed. Book your spa break today and treat yourself to the pampering you deserve.
Spa Breaks in Aberdeen FAQs
How can I book a spa break in Aberdeen?
Booking your spa break is quick and easy! Simply visit our website and select the Aberdeen location. From there, you can browse through our available packages and choose the one that best suits your preferences. Follow the prompts to confirm your booking, and you're all set for a rejuvenating experience.
Are the spa facilities and treatments suitable for men as well?
Absolutely! Spa breaks at Aberdeen resorts are designed to cater to both men and women. Our skilled therapists ensure that everyone receives a personalised and enjoyable spa experience.
Can I customise my spa break package with additional treatments?
Certainly! We want your spa break to be tailored to your desires. You can add extra treatments to your spa breaks at Aberdeen package during the booking process, ensuring that your stay is as indulgent as possible.
What clothing should I bring for my spa break in Aberdeen?
Comfort is key during your spa break. Pack loose, casual clothing for maximum relaxation. Additionally, bring suitable swimwear for any hydrotherapy or pool sessions you may wish to enjoy.
Thainstone House Hotel

Inverurie, Aberdeenshire

offers from
£170.00pp

Thainstone House Hotel near Inverurie in Aberdeenshire is surrounded with idyllic parkland and woodland. Right from the main entrance, there is a feeling of space and tranquility meaning that Thainstone offers a relaxing break away from the hustle and bustle of daily life, or as a backdrop for a great corporate event encapsulating the outdoors. Relax, rejuvenate and exhilarate. . .

View Offer Details