Spa Days Aberdeenshire
If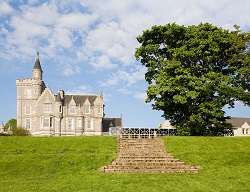 you're looking for spa breaks or a spa day in a relaxing setting, a venue surrounded by endless scenery and beautiful views, then a spa day in Aberdeenshire may be what you're looking for.
The area has some beautiful monuments and tourist hot spots that can be visited before or after a relaxing day in the spa being pampered. Still, it also offers a range of natural wildlife that can be seen in all parts of the county. Enjoy your spa day in Aberdeen within the tranquil area of Scotland and take in the scenery whilst appreciating a wonderful healthy lunch in the hotel gardens.
Choosing Spa Days in Aberdeenshire
There are many options for spa days in Aberdeenshire that offer a time of relaxation, whether you visit on your own, with a partner, or with family. Spa hotels in Aberdeenshire provide options that give you views across idyllic parklands and woodlands.
The Mercure Ardoe House offers spa days in Aberdeen, situated perfectly amidst beautiful countryside, and provides a wide range of options for spa breaks in Scotland. From great value packages offering a 25-minute treatment for each guest to top of the range spa days offering over 3 hours of relaxing and rejuvenating spa treatments. Many extras can be added to your chosen package, so if you fancy additional treatment or even lunch or dinner at the hotel, let us know, and we will be more than happy to inquire about this on your behalf.
Venues such as the Thainstone House near Inverurie in Aberdeenshire are surrounded by beautiful scenery while offering a vast range of leisure facilities and spa treatments. Right from the main entrance, there is a feeling of space and tranquillity, which provides the ultimate peaceful retreat away from the hustle and bustle of daily life. Alternatively, you can host a tremendous corporate event that encapsulates the outdoors.
If you love the idea of a spa break in Scotland but are unsure of whether spay days in Aberdeen appeal to you, why not browse our whole catalogue of
spa breaks in Scotland
.
We have a variety of spa break hotels in the area, each offering great locations within their grounds while maintaining an easy reach from an eclectic range of amenities and things to do. After all, spa breaks are about relaxation and exploring the local areas.
Scotland offers an abundance of tourist attractions and great locations, from the beautiful outdoors to cities full of history, galleries, and museums - there is so much to choose from.
Please get in touch to enquire about a chosen spa day in Aberdeen, spa breaks across Scotland or
spa breaks in the UK
, and we can check the availability on your behalf.
Thainstone House Hotel

Inverurie, Aberdeenshire

offers from
£45.00pp

Thainstone House Hotel near Inverurie in Aberdeenshire is surrounded with idyllic parkland and woodland. Right from the main entrance, there is a feeling of space and tranquility meaning that Thainstone offers a relaxing break away from the hustle and bustle of daily life, or as a backdrop for a great corporate event encapsulating the outdoors. Relax, rejuvenate and exhilarate. . .

View Offer Details