Spa Breaks Derbyshire
Famous for its beautiful Peak District with quaint villages and market towns, spa breaks Derbyshire provides you the opportunity to take in some amazing scenery and explore the countryside. With the county being renowned for its natural beauty and tranquillity, there is no better place to either sit back and breathe in the fresh air or make the most of your spa deals for a few days of partaking in a number of activities.
Set in acres and acres of grounds, if you take a trip to the famous Chatsworth House,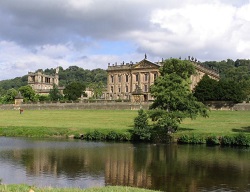 you will be joined by local walkers and others looking for a way to de-stress. If you prefer the hustle and bustle of a city opposed to the peace and quiet of the countryside, or you simply enjoy the contrast between the two, you should take a visit to Derby while you are in the county. With plenty of opportunities to enjoy some well-deserved retail therapy, an exhilarating nightlife and diverse range of entertainment along with an abundance of sightseeing, this city ticks all the boxes for the perfect spa breaks.
What Do Spa Breaks In Derbyshire Include?
If you are looking for one of our best spa packages in Derbyshire, browse through our selection of spas and hotels to find the one that meets your specific requirements. Our entire range of spas and hotels are available at competitive prices, so you can be sure that you're getting a great deal for your money! With there being so much to do in Derbyshire, after a long day exploring you can retreat to your hotel and immerse yourself in the pool for a gentle swim, or even just a dip. Many of our spa breaks Derbyshire include a spa treatment or two, giving you the chance to truly relax and rejuvenate, without having a care in the world! You can take a look at all the spa facilities and treatments for each spa and hotel, making choosing the right one for you a seamless process. Each spa offers a range of different treatments, so you can have that facial or massage that you've been dreaming of at the hotel you're staying at.
After getting to know the location better and relaxing in one of the treatment rooms, end the day the right way by dining at the restaurant at the hotel or even trying one of the many restaurants and bars in the local area. Regardless of who you travel with, spa breaks Derbyshire are ideal for a fun yet chilled getaway. At Spa and Hotel Break, we have multiple package types and even gift vouchers, so you can save money and treat your loved ones to a well-deserved break! Spa breaks in Derbyshire have everything you need for an enjoyable few days away. To find out more about our breaks or to find the perfect spa and hotel for you, get in touch with our friendly team.
Ringwood Hall Hotel and Spa

Chesterfield, Derbyshire

offers from
£189.00pp

Ringwood Hall is a beautiful 19th century manor house within 6 acres of formal award winning gardens, surrounded by 29 acres of parkland. Perfectly located on the doorstep of the Peak District in Derbyshire, providing the ideal location whatever the purpose of your visit. The Ringwood Hall offers wonderful accommodation, spa and beauty treatments, with excellent dining options. Whilst enjoying. . .

View Offer Details

New Bath Hotel & Spa

Matlock, Derbyshire

offers from
£149.00pp

This elegant four star boutique venue, The New Bath Hotel, is on the edge of the historic spa town of Matlock Bath and has recently been fully refurbished with 54 luxuriously appointed bedrooms. The spa is a new edition to the 17th century building and facilities include a sauna, steam room, an outdoor hot tub and a relaxation room; which. . .

View Offer Details

Best Western Premier Yew Lodge

Kegworth, Derbyshire

offers from
£69.50pp

The Best Western Premier Yew Lodge Hotel sits at the heart of Kegworth Village close to East Midlands Airport and is perfect for every kind of guest. From holiday makers and families to business travellers or those who want to relax in a wonderful hotel, it's the perfect place to stay! With Marco's New York Italian by Marco Pierre White. . .

View Offer Details