Spa Days Kent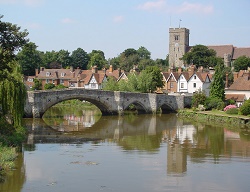 Get ready to take some much-needed time to yourself with one of the fabulous spa days in Kent available. With an array of top-class venues to choose from, you won't be at a loss when finding your perfect location and facilities. With some spa's located in secluded settings to help you zone out from the real world, to others situated along the coast with an exclusive beach view you can create the spa days Kent that ticks all your boxes.
Our spa days in Kent packages offer fantastic value for money, providing you with full control over how you want to unwind. Prices range from £35.00pp with optional extras available to add onto your booking including overnight stays, treatments, three course dinners and further use of spa facilities. Be sure to check what's included in your booking to make sure you get the most out of your visit.
Why Choose Spa Days In Kent?
Regardless of the temperature outside, one of the many spa days in Kent available could be just what you need to step away from the hustle and bustle of real life or to give you something leisurely to do as your partner or family enjoy nearby attractions. For example, the Mercure Brands Hatch Hotel & Spa is located very close to the Brands Hatch motor racing circuit and just a few minutes' drive from the London Golf Club.
The Best Western Plus Dover Marina Hotel & Spa on the other hand provides the opportunity to soak up the scenes of Kent and is just a few minutes' walk away from Dover Town Centre and the infamous White Cliffs of Dover, enabling you to not only de-stress, but explore the mesmerising sights and shopping the city has to offer, all on your doorstep. With facilities including a Jacuzzi, steam room, sauna, relaxation room and gym on site, there's not a better spa days Kent to choose from.
What Else Is On Offer
Within many of our spa days in Kent packages, you will be treated to a delicious evening meal ranging from two to three courses or up to a specified value, enabling you to try out new cuisine you otherwise may not have had the chance to. With a range of favourites and dishes designed for more bespoke tastes available on each of the menus, you can end your relaxing spa day with a healthy (or not so healthy) dinner to set you up for a good sleep. Sounds dreamy, doesn't it?
Book Your Spa Day In Kent
Our spa days in Kent are often booked up fast with amazing value for money at your fingertips and all the classic, and no so classic, spa rituals on offer for you and your friends or significant other to enjoy including full-body exfoliations, foot and lower leg massages, hand treatments, express facials, salt, and oil scrubs and much more. So, if you are looking for the ideal night or mini break away from home and your everyday responsibilities, now is the perfect time to view our exclusive range of spa-cations.