Spa Breaks in Durham
If you're looking for a rejuvenating escape amidst breathtaking landscapes, Durham is the perfect destination. Our carefully curated selection of spa breaks in county Durham offers you the opportunity to unwind, recharge, and pamper yourself in this charming region of North East England.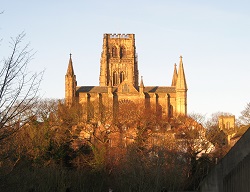 As you step into this picturesque region, you'll be embraced by a sense of peace that only nature can provide. The air carries a gentle hint of history, whispering tales of ancient castles, cathedrals, and rich cultural heritage that adorn the landscape.
Our spa and hotel breaks have been thoughtfully selected to ensure you leave behind the stresses of everyday life and immerse yourself in a world of relaxation and pampering. Indulge in luxurious treatments tailored to your desires, performed by skilled therapists dedicated to your well-being.
Things to do in Durham
During spa breaks in County Durham, the opportunities for exploration and enrichment are as abundant as the relaxation you'll experience at the spa. Venture into the picturesque Durham Dales, where nature's beauty unveils itself in breathtaking landscapes and charming villages. Whether you prefer leisurely walks or more challenging hikes, the enchanting surroundings will captivate your senses and provide the perfect backdrop for moments of serenity.
For history enthusiasts, a visit to the iconic Durham Cathedral and Castle is an absolute must. These architectural marvels stand as proud testaments to the region's rich heritage, inviting you to step back in time and immerse yourself in centuries of history. Gaze in awe at the intricate craftsmanship and soaring spires of the Cathedral, a UNESCO World Heritage Site. Unravel the stories of kings and knights within the medieval walls of Durham Castle, a stunning Norman fortress.
After delving into the historical wonders, take a leisurely stroll along the banks of the River Wear, meandering gracefully through the heart of Durham. The gentle flow of the river and the scenic views offer a calming escape, allowing you to embrace the serene atmosphere that complements your spa experience.
Types of Spa Breaks in Durham
At Spa & Hotel Breaks, we understand that each individual seeks a unique spa experience at our partnered spa hotels. It doesn't matter if you're a couple seeking a romantic getaway, a group of friends wanting to unwind together, or a golf enthusiast seeking a relaxing retreat, we have the perfect spa break for you.
Couples can indulge in intimate spa breaks in county Durham that include luxurious treatments and access to premium facilities, providing the ideal setting to reconnect and create lasting memories.
For groups, we offer tailored North East spa breaks, ensuring that everyone's preferences are met. Share laughter and relaxation with your friends amidst the tranquil ambience of County Durham.
Golf enthusiasts can take advantage of our spa and golf packages, combining the pleasures of the spa with rounds of golf at some of the most scenic courses in the region.
Spa Break Durham
Delve into a world of serenity and pampering with our wide array of spa treatments. Our experienced therapists will ensure you receive the utmost care and attention during your chosen treatments.
Indulge in soothing massages that relieve tension and leave you feeling refreshed. Experience the rejuvenating effects of facials tailored to your skin's specific needs. Treat yourself to professional manicures and pedicures, adding a touch of elegance to your spa experience.
Complete your journey to tranquillity with access to premium spa facilities, including steam rooms, saunas, and relaxing lounges. Immerse yourself in an oasis of calm and emerge feeling rejuvenated and invigorated when you book spa breaks in Durham with us today.
Spa Breaks Durham FAQs
What's the ideal duration for a spa break in Durham?
The recommended duration for a spa break varies based on individual preferences. However, we find that 2 to 3 nights are ideal for guests to fully immerse themselves in the spa experience and explore the beautiful surroundings.
Are spa treatments suitable for individuals with specific health conditions?
Our experienced therapists are well-trained to accommodate guests with various health conditions. Please inform us of any concerns or conditions you may have during the booking process, allowing us to tailor the treatments to your needs.
Is it necessary to book in advance?
While we do our best to accommodate last-minute bookings, we highly recommend completing your booking in advance to secure your preferred treatments and ensure a seamless experience.
What should I bring with me for a spa break in Durham?
We recommend bringing comfortable clothing, swimwear, and appropriate footwear for your spa break. Most spas provide robes, towels, and slippers for guests to use during their stay. If you plan on using the gym or fitness facilities, don't forget to pack your workout gear.
The Morritt Hotel & The Garage Spa

Barnard Castle, County Durham

offers from
£145.00pp

The Morritt Hotel, with a laid-back atmosphere and a superb period architectural interior, is close to Durham City and Barnard Castle. The wide variety of room types and styles offer something for everyone, from contemporary to ornate, historic interiors with four poster bed options or lavishly decorated suites. With a choice of two restaurants, there's sure to be something to. . .

View Offer Details

Hall Garth Hotel & Spa

Darlington, County Durham

offers from
£105.00pp

The 15th century manor house which is the Hall Garth Hotel & Country Club offers comfortable accommodation in beautiful County Durham. Originally part of the Bishop of Durham's estate, the Hotel is set in beautiful countryside, but is handily located only half a mile from main roads in the area. Each of the 56 contemporary and traditional rooms offer stunning. . .

View Offer Details

Derwent Manor Boutique Hotel

Consett, County Durham

offers from
£89.00pp

Beautifully set in 20 acres of Northumberland countryside and overlooking the Derwent Valley, Derwent Manor Boutique Hotel offers the warmest of welcomes. With its country house ambience, elegant decor and professional team, this is the ideal venue for business and leisure guests alike. Derwent Manor Hotel boasts 56 elegant, spacious double bedrooms including five suites offering stunning views over the Northumberland. . .

View Offer Details