Spa Days Bath
When it comes to spa days, Bath is a city that stands out as a truly exceptional destination. Located in the heart of the Somerset countryside, Bath boasts a rich history, stunning architecture, and, of course, world-class spa experiences.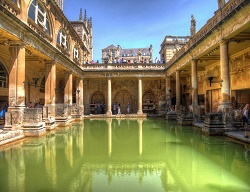 For couples seeking a romantic retreat, Bath's spa hotels provide luxurious spa breaks for couples. Imagine unwinding in thermal waters while gazing at the city's historic skyline, or indulging in a couples' massage in a serene and intimate environment.
If you're traveling with friends, Bath offers an equally inviting atmosphere. Spend your spa day bonding over rejuvenating treatments, savoring delicious meals, and exploring the city's charming streets.
What To Do In Bath
While planning your spa days in Bath, it's worth considering what else this enchanting city has to offer. After a relaxing spa treatment, explore the numerous attractions that make Bath a unique destination.
Start your visit by going to the historic Roman Baths, where you can walk in the footsteps of ancient Romans and learn about the city's rich history. The Bath Abbey, an architectural masterpiece, is another must-see. Its stunning Gothic interior and beautiful stained-glass windows are sure to leave you in awe.
For those who appreciate art, a visit to the Victoria Art Gallery is a must. Here, you can admire a wide range of paintings, sculptures, and decorative arts from different time periods. If you're a literature enthusiast, the Jane Austen Centre provides a glimpse into the life of the beloved novelist.
The city's culinary scene is equally appealing. Bath offers a wide range of restaurants, cafes, and tea rooms where you can savor delicious British cuisine, afternoon tea, and international dishes.
For nature lovers, the surrounding countryside offers scenic walking trails and the opportunity to explore the tranquil English countryside. Consider a stroll along the Kennet and Avon Canal or a visit to the beautiful Prior Park Landscape Garden.
Planning Your Spa Day in Bath
Before you book your spa days in Bath, there are a few essential details to consider. Timing is crucial, so make sure to check with your chosen spa hotel or resort for their check-in procedures. Each establishment may have its own policies, so it's wise to be informed in advance.
When packing for your spa day, keep in mind that many spas in Bath provide towels and robes, ensuring you can fully relax without worrying about what to bring. However, it's always a good idea to verify this information on the offer page or by contacting the spa directly.
As for the treatments available, Bath's spas offer a diverse range of options to cater to your preferences. You can indulge in soothing massages, revitalizing facials, aromatherapy sessions, or select from the spa's menu, depending on the package you book. Some spas also offer evening spa options, allowing you to unwind after a day of sightseeing.
How To Book Spa Days in Bath
Booking your spa day in Bath is a straightforward process. On our website, you can browse through a selection of spa hotels and resorts in Bath. Each hotel or resort's page provides detailed offer information, helping you choose the perfect package to suit your needs.
Once you've found your preferred spa day package, call us to book your space! Our friendly staff will assist you in making a reservation, answering any questions you may have, and providing guidance to ensure your spa day in Bath is a memorable experience.
Bath Spa Day FAQs
What are the best times to book a spa day in Bath for couples?
The best times to book spa days for couples in Bath are typically during the weekdays or outside peak holiday seasons. This allows for a more serene and intimate experience with fewer crowds.
Can I customize my spa day in Bath to include specific treatments?
Yes, many spas in Bath offer customizable spa day packages. You can often select from a range of treatments, ensuring your spa day caters to your specific preferences and needs.
Are there spa evening options available in Bath?
Yes, some spas in Bath offer a spa evening spa package, allowing you to unwind and relax after a day of exploring the city's attractions.
Do I need to bring my own towels and robes for my spa day in Bath?
Many spas in Bath provide towels and robes for their guests, but it's advisable to confirm this information with your chosen spa before your visit. This will ensure you're well-prepared for your spa day.
No deals have been found!
It might be worth trying to broaden your search parameters or contact us directly on 0800 2465511