Spa Days Worcestershire
Discover the ultimate in relaxation, rejuvenation, and indulgence in the heart of Worcestershire. Whether you're looking for a romantic weekend away or some much-needed pampering, our lavish spa breaks will leave you feeling refreshed and revitalised.
The packages for our favourite spa days in Worcestershire are on this page, enticing you into booking a weekend spa getaway. Spa days in Worcestershire may not be the first to come to mind when you think of getting away, but our chosen resorts and spa hotels offer amazing Worcestershire spa day deals.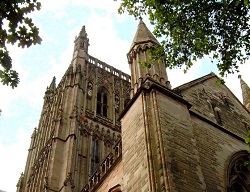 We're always updating our pages with the latest deals to give you offers that you won't find anywhere else. Book Worcestershire spa days with us today and you'll get great package deals that you won't find anywhere else.
Where to Go During Worcestershire Spa Days
Worcestershire offers a peaceful and serene environment, perfect for a relaxing spa break. Surrounded by rolling hills, charming countryside and the River Severn, Worcestershire is an idyllic location for a spa day. Furthermore, this area of the West Midlands is renowned for its spa offerings, with a variety of comfortable spa facilities available. From traditional, rural spas to more modern, city centre locations, there is something to suit everyone's needs.
Worcestershire is rich in history and culture, with a variety of attractions to explore during your spa break. Discover the beauty and grandeur of the Worcester Cathedral, with its breathtaking views from the top of the tower. Take a stroll through the picturesque village of Broadway, known for its quaint tea rooms and stunning views of the surrounding countryside. Enjoy scenic walks through the stunning grounds of the Malvern Hills, taking in the spectacular views of the surrounding countryside. Or you could even choose to get up close and personal with the many animals roaming around the West Midlands Safari Park.
Book Relaxing Spa Days Worcestershire
At Spa & Hotel Break, we pride ourselves on offering a fantastic selection of spa days in the best locations across the country. Our experienced team of travel experts work tirelessly to ensure that each of our packages offers the perfect combination of indulgence, relaxation and affordability.
We offer a variety of spa packages, each designed to suit a different need. Whether you're looking for a romantic escape, a much-needed break from the stresses of everyday life, or a pampering treat for a special occasion, we have the perfect package for you.
Our spa packages have features that you won't find when you book outside of our pages. With Spa & Hotel Break, you can achieve luxury accommodation at some of the finest spas and hotels around, a range of spa treatments included in your booking, and access to various amenities like saunas and swimming pools. You'll find all the details for what's included in each package when you click to view offer details.
Check out our other locations for spa days in the West Midlands to find the best spa and hotel for your next trip. We have plenty of offers from some of the best spa resorts around. Contact us today or book online now!
The Abbey Hotel

Redditch, Worcestershire

offers from
£89.00pp

Surrounded by 175 acres of Worcestershire countryside, the family owned four star venue The Abbey Hotel, sits just south of Birmingham in Redditch making it an ideal base for exploring the surrounding area. Welcoming guests on business and leisure breaks, the hotelís contemporary style is warm, welcoming and sophisticated. Accommodation ranges from Classic Rooms and family rooms to the Royal. . .

View Offer Details