Find Your Perfect Spa Experience
Spa Breaks In The UK
If you're looking for an escape from your hectic day to day life, spa breaks UK are the ideal solution for you. Renowned for being the perfect way to relax, rejuvenate and rewind, you should book a couple of spa breaks into your diary every year. One of the biggest benefits of spa breaks UK is that you have such an array of destinations to choose from, with plenty of spa breaks Scotland, Wales and England available. The UK is home to a range of spots, so whether you want to visit a city buzzing with atmosphere or choose a quiet spot deep in the peaceful countryside, you can find the perfect spa here!
What Do Spa Breaks Include?
As well as refreshing treatments, spa breaks are also a great opportunity to treat yourself to food that will delight your taste palette. Our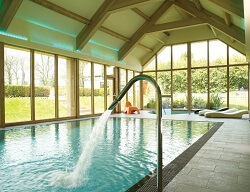 stunning spa hotels provide afternoon tea, breakfast, lunch and dinner, so you can truly indulge yourself when you choose one of our spa breaks.
Having time away from your day to day life is beneficial. It allows you to forget about any worries or problems and focus on you and your wellbeing; that is where our spa breaks UK come in. Every spa that we have available are all fully experienced in treatments which are sure to boost your energy levels by allowing your body to fully relax.
We understand that you don't want to spend a fortune on a getaway, which is why spa deals are so affordable. Regardless of whether you stay away for one night or two, we have something to suit every budget. The available packages mean that you can enjoy a treatment, dinner, an overnight stay and even a delicious breakfast when you wake up, without upsetting your bank account.
By staying away for a couple of nights gives you the chance to reflect and compose your thoughts. Ultimately, this will help with both your mental and physical welfare and increase your overall happiness.
Choosing Spa Breaks To Suit Your Requirements
When you choose the spa break that is right for you, there are many factors that you need to take into consideration. From the distance you want to travel, to the size of your party and the flexibility of your dates, these all play a part when choosing your ideal getaway from our selection of spa breaks UK.
When booking your spa break you should think about what you want to get out of it. If you're travelling alone for some 'me time', single person spa breaks offer everything you're looking to enjoy a tranquil break. On the other hand, if you want to spend some quality time with your other half or your mum, choose a spa that not only offers luxurious spa treatments, but also a spot that has activities for you to do together. From Wales, to the South West, East Midlands and Scotland, you really can enjoy spa breaks anywhere in the UK.
Spa Treatments At Our Spa Breaks UK
In addition to exploring your chosen location, it's important that you make the most of what our spa breaks UK have to offer. Every spa and hotel have an array of spa treatments for you to choose from, so you can create a bespoke spa break that suits your requirements.
Be pampered, put your feet up and brush off all of your worries in one of our spas. After a soak in the pool and a destress in the sauna, lie down and enjoy a message that will relieve any tension you previously had. Alternatively, you can opt for a manicure or pedicure, because when do you get a chance to treat your hands and feet? Finish your spa break with a face massage, that won't only leave you feeling refreshed, but make your face appear rejuvenated too!
If you would like more information about our services, don't hesitate to get in touch with our team. We have years of experience creating spa breaks to suit the individual, as well as groups, so we will ensure that your getaway is everything you want it to be!
Spa Break FAQs
Is it safe to go on a spa break if I'm pregnant?
Pregnancy is a time when your mental and physical needs are different, more acute, and more specific than normal. For many women, the desire for an overnight spa break is tempting, but often concerns about whether it's safe prevents many from the enjoyment.
During the early stages of your pregnancy, there are several spa activities that is often advised to be avoided due to high temperatures such as, the Jacuzzi, sauna, and steam room. In addition, deep tissue massages and aromatherapy is often considered unsafe. During your second and third trimester, you explore a bit more.
What's amazing is that many spa break boast a dedicated list of prenatal treatments that are safe for you and your baby. These are sure to give you plenty of tailored pampering and peace of mind as they're especially designed for mums-to-be. If you have any specific worries or considerations, then we would advise speaking with your doctor first before making a booking, and if in doubt your spa therapist will also be on hand to offer advice if you need it.
What do I need to wear during my spa break? Do I have to be naked?
For new comers, many do wonder the common etiquette for clothing. If your spa break boasts an in-house restaurant, there may be a dress code you need to check. Otherwise, most of your day will be in your swim wear an/or a robe and slippers. In most UK spas, it is required for you to wear at least your swimwear or robe in all communal spaces.
During your spa treatments, such as massages, it's what ever you feel most comfortable in. You may wish to take two swim suits with you – one for the water activities, and one for your treatments. Some people even wear just their underwear during spa treatments. Some prefer to wear nothing at all.
It is common etiquette for you therapist to leave the room while you undress and get settles under towel/blankets ready for your treatment. They will only uncover the part of your body they are working on, so whatever you've chosen to wear, you will always be covered. If you are not comfortable or are unsure what to wear or how much to undress, just ask your therapist, they will always be more than happy to advise.
Can dietary requirements be catered for during spa breaks?
Absolutely. Advise us upon booking your spa break. Once your booking is confirmed, it may also be sensible to phone your spa a few days before your arrival to ensure they are aware too.
Can I choose to add on extra spa treatments during my overnight spa breaks?
Of course. You can enquire about this at the time of booking. Otherwise, you can also call your spa once your booking confirmed to choose from their array of treatments.
Are you allowed to talk during a spa break?
The main spa facilities aim to be tranquil and restful places – a retreat for most. Therefore, it is respectable to use very quiet voices. However, you don't have to be completely silent - part of enjoying the experience is often sharing it with friends. Just make sure you consider the comfort of other guests who have gone there to relax as well. For example, making a lot of noise and splashing loudly in the pool won't be welcomed. Some spas have designated quiet areas too.