Spa Days in Scotland
Renowned for its breath-taking views, unwind in style with a spa day in Scotland. Whether you're looking to escape the city with your partner, enjoy a catch up with friends or simply getaway for some me time, there is no better place to head.
From the hustle and bustle of Edinburgh's historic city to the astonishing views across Loch Fyne, our range of spa days in Scotland offer something for everyone to help you tick all of the right boxes. During your trip, you will never run short of things to do thanks to the array of stunning views from every corner and endless landmarks, restaurants and shops to visit. Make the most of your spa day in Scotland by selecting the perfect location so you can achieve the ideal combination of sightseeing and relaxing in the serenity of spa breaks Scotland.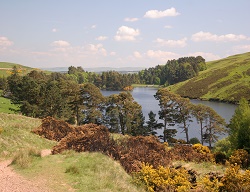 Spa Deals in Scotland to Suit You
Taking pride in our range of spa days in Scotland, our deals have been carefully handpicked to ensure you have a day to remember. We only offer spa deals in Scotland which we know will not let you down, exceeding any expectations to provide you with a day to remember.
Throughout the years, we have built up industry partnerships which allow us to offer you exclusive spa deals in Scotland that you will be unable to find elsewhere on the internet. With options to suit all budgets, we keep our selection of spa days in Scotland varied so you can choose the one which meets all of your requirements so you can find exactly what you have been searching for with excellent value for money.
Book Your Spa Day in Scotland
Whether you are looking to take a break from sightseeing with a recuperating spa day in Edinburgh during your holiday or are heading for a spa day in Aberdeen to immerse yourself in the beautiful surroundings and enjoy a day of peace and quiet, look no further. No matter the nature of your trip, take it to the next level by finding great spa deals in Scotland to add the final touch.
If one day doesn't seem like enough, we also offer spa break packages so you don't have to worry about feeling rushed. Unwind fully with full use of the spa facilities, luxury hotel accommodation and delicious food so all you have to worry about is relaxing.
If you would like any friendly advice from our experienced spa team or have any queries about any of the spa deals in Scotland listed below, do not hesitate to get in touch. You can call us for free on 0800 012 2000 or get in touch by filling out our online form where we will review your message and get back to you as soon as possible so you can secure your spa day in Scotland!