Spa Breaks in East Anglia
Throughout East Anglia we have many spa breaks including spa stays in Norfolk, Essex, Suffolk, Cambridge, Hertfordshire and Bedfordshire. Choose from thriving city centre breaks or opt for venues closer to the coast to take in the most relaxing of surroundings. With overnight packages available from only £60 per person it's the perfect county to visit for a spa deals on any budget. If you're looking for luxury, look no further than the Champneys Spa Retreat venues within East Anglia.
The East Anglian cost runs for approximately 500 miles where you'll discover beautiful sandy beaches,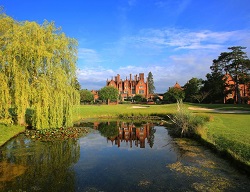 stunning cliff faces, saltmarsh and creaks. The county is also famed for offering the best nature and birdwatching opportunities in the country. Throughout the area there are many market towns and villages for you to explore as family or with a loved one, along with castles dating back to 1140AD; so much to add to your "to do" list while you're visiting the area.
Please browse through the below counties to narrow down your search for the perfect spa break. If you would like any help or advice or to make a booking, please call us free of charge on 0800 246 55 11. Our phone lines are open from 9am seven days a week.