Spa Breaks in Shropshire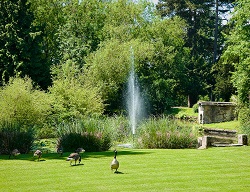 Although the county is the birthplace of the industrial revolution, Shropshire remains an unspoilt haven that is home to some stunning areas of natural beauty. Whether you're visiting for a weekend of family fun in the countryside, a romantic getaway to try out the delicious restaurants or for a bit of me-time as you head around the local farm shops and delis, Shropshire offers something for everyone. Whilst you're here, take relaxation up a level by making the most of some of the best spa breaks in Shropshire, treating yourself to some well earnt pampering.
Having been in the industry for many years, we have built up strong partnerships with a variety of spa hotels in Shropshire which allows us to get access to exclusive spa dealswhich you will not find elsewhere on the internet. As well as getting you access to the luxury spa facilities and a cosy hotel room for your break, we try to make your stay as memorable as possible with additional extras such as mouth-watering three course meals, professional spa treatments and a hearty breakfast before you head home the next day.
Choosing the Best Spa Hotels in Shropshire
We strive ourselves on helping you find the perfect spa breaks in Shropshire for you, offering a wide range of options so you are bound to find exactly what you have been looking for. From relaxing countryside retreats set among acres of stunning nature to town centre spa hotels in Shropshire that are situated right by popular shops, restaurants and bars, the choice is yours! If you're looking for places to visit during your trip, we recommend trying some of the more unique attractions such as an old medieval cinema, a railway that only operates up and down and an old quarry which has been converted into a park to name just a few. Once you've planned a busy day of exploring, there's no better feeling than knowing you can head back to luxury spa hotels in Shropshire ready to put your feet up and enjoy the feeling of pure relaxation.
Book Your Spa Breaks in Shropshire
Although we have some great deals available on some of the most popular spa hotels in Shropshire, don't hold off for too long as our best deals get snapped up quickly. If you are not sure on which package to book or would like to know some more information about any of the spa locations, please do not hesitate to get in touch. Our friendly team strive to accommodate to your needs, recommending some great suggestions and working to find a package that fits your dates. If you're short for time or are just passing through the area, we also offer a range of spa days in Shropshire so you can squeeze a bit of pampering into your busy lifestyle!