Spa Breaks Shropshire
At first glance, a spa break in Shropshire would bring you to a location filled with contradictions. An area that is an unspoilt haven yet is the birthplace of the Industrial Revolution. Shropshire is home to two of the most stunning small towns in England, one set the standard for the country's slow food movement and the other home to the birthplace of the skyscraper.
Located within Shropshire we have a wide range of spa breaks available. A break at the Mercure Albrighton Hall,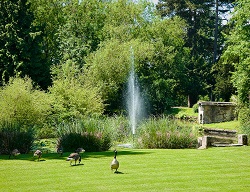 situated within 15 acres of grounds, this 18th century manor house offers great views over the hotels lake, great food and a relaxing atmosphere. Why not visit the Lion Quays with its state of the art spa facilities, thermal suite and leisure club? It really is a place you can spend all day at and still not manage to do everything.
As you explore Shropshire's spa venues you may also stumble across some strange combinations within the countys outdoors, located within this area is an old medieval cinema, a railway that only operates up and down and an old quarry which has been converted into a park to name a few.