Spa Breaks In Yorkshire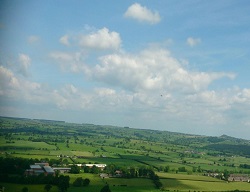 For anyone exploring the options for well-deserved weekend spa breaks in Yorkshire, you're sure to be floored by the sheer beauty of every location available to pamper you and help you relax. Yorkshire is a picturesque place, perfect for a little relaxation and healing if you're looking for spa days to get away from the bustle of your normal week.
With such outstanding natural beauty to see, it's no wonder that Yorkshire spa breaks are so popular. There are plenty of luxurious facilities, some of which double as hotels, where you can take a few deep, calming breaths and watch the day pass you by.
Let your imagination run wild. Take a chance on a resort you've never stepped foot in before or be swept away by the caring nature of a Yorkshire spa that you've frequented and enjoyed every time. Spa breaks in Yorkshire are extremely popular packages with us at Spa & Hotel Break, thanks to the location of the spas being surrounded by rolling hills and wide expanses of natural scenery.
Step away from the city with a Yorkshire spa break. Enjoy the local Peak District or take in the remnants of Victorian life by wandering around local towns and villages.
Choosing Spa Breaks Yorkshire
By browsing our bespoke spa hotels in North Yorkshire, you can choose a package that's just right for you. Let us start you on your stress-free journey by providing an easy-to-read list of Yorkshire spa breaks so that you don't need to fret over finding all of the information you require.
Each of our spa breaks in Yorkshire are designed to help reduce your everyday worries, providing tranquillity in the quiet serenity of North Yorkshire. It helps that our Yorkshire spa breaks are such tempting prices, too.
With our collection of Yorkshire spa breaks so plainly available for you to explore, there is plenty of choice for those looking for the perfect getaway. If you have less time to spend relaxing, you can choose to stay for one day rather than a full weekend, and there are also packages aimed at two people who want to share time away together. Bring your best friend, your significant other, anyone you choose. Though, do be aware that many duo packages include a bit of subtle romance in the form of terrace dinners, and welcoming flowers and chocolates. Check package information to be sure you're getting what you need for a stay with your chosen spa.
If you do decide to stay for a two-night package, why not indulge and venture out into the local area? North Yorkshire is full of delightful surprises, from Yorkshire Dales National Park to Fountains Abbey. There's plenty to do and even more to discover if you want to take an aimless walk out in the countryside.
Pick Spa Breaks Yorkshire Today
At Spa & Hotel Break, we've been offering spa breaks in Yorkshire for many years, and we have plenty of experience and expertise to help you find the best deals available. We utilise our valuable partnership with hotels and spa resorts to bring you the best experiences at spa breaks in the north east.
To book a little relaxation, browse our offers and get in touch on 0800 2465511 or send us an email enquiry today.