Spa Breaks In Yorkshire
Yorkshire is well known for its rolling hills and wide expanses of scenery worthy of a postcard, but between these breathtaking sights lays a host of medieval architecture, remnants of Victorian living and vintage estates that let the imagination run wild. With stunning beauty to enjoy with every step, it's no surprise that our spa breaks in Yorkshire are some of the most popular packages amongst our clients and rightfully so. The region is home to the city of York, the Peak District and the Yorkshire Dales to name just a few points of interest, all surrounded by outstanding natural beauty that wouldn't look out of place in a Tolkien novel. For this reason, picking Yorkshire from our choice of spa breaks couldn't be a better choice; with the perfect opportunity to truly escape the stresses of everyday life right there at your doorstep.
With our collection of spa breaks Yorkshire packages, you're truly spoiled for choice. Stay overnight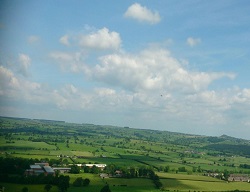 for a short and sweet treat or stay a little longer for a truly indulgent break for the perfect opportunity to unwind and recuperate before returning to everyday life. Whatever you decide, you can rest assured that the breaks we list here at Spa & Hotel Break are some of the best and most luxurious available. From rustic, regal and rural manor houses, to majestic modern hotels that offer sophisticated stays regardless of the location, picking out the right kind of spa breaks Yorkshire for you without having to compromise on good prices is easy.
Simply take a look at the listings we have below and browse our bespoke offers to see for yourself! After all, spa breaks in Yorkshire are meant for eliminating stress, which is why our prices are affordable and booking is straightforward.
Relaxing Spa Breaks In The Heart Of Yorkshire
We only list the best spa breaks Yorkshire has to offer here at Spa & Hotel Break and as a result, you can rest assured that wherever you choose, you're guaranteed a break worthy of remembering. Whether you're eager to explore the surrounding area and put on those walking shoes, or you'd prefer to rest and relax in the comfort of a unique hotel, there's something to suit every taste. All you have to do is pick out the location, hotel and spa to suit you, so you can set off on a holiday that you deserve. Additionally, if you choose from one of our spa breaks in Yorkshire, you can save even more money on your mini spa break!
Here at Spa and Hotel Break, we've been offering spa breaks in Yorkshire for a long time and as a result, we have plenty of experience and expertise to pass on to our clients. From which hotel will be the best fit dependent on your interests, to the collation of the best spa discounts that won't be available anywhere else online, we utilise our valuable partnership with these hotels and resorts to bring you the best experience, every time.
From the hustle and bustle of Leeds, Sheffield and York, to the relaxing sanctuary of the Peak District or the Yorkshire Dales, you're truly spoiled for choice with some of the best spa breaks Yorkshire has to offer. To book yours, simply take a look at what's on offer below and get in touch on 0800 2465511 or send us an email enquiry, today.