Spa Days in Shropshire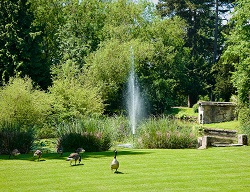 A spa day can make the world of difference, allowing your body to fully relax and take your mind off the stresses of everyday life. Whether you are planning to celebrate a special occasion, enjoy a catch up with friends, get away on a romantic date or just enjoy a bit of well needed time alone, spa days in Shropshire could be just what you've been looking for.
To help you get your hands on the perfect spa days in Shropshire, we offer a range of different spa deals at various locations across the county. If you're heading into the bustling town centres to make the most of the shops, bars and restaurants, pick one of our conveniently located spa days or spa breaks which you can head back to for a bit of pampering after a busy day. Alternatively, get away from it all with spa days in Shropshire nestled in the stunning countryside at peaceful spa hotels, enjoying the serenity of the surrounding nature. Whatever your preference, we have access to a variety of unmissable deals at prices you'll struggle to beat elsewhere.
Making the Most of Spa Days in Shropshire
Shropshire is home to endless historic sites and some beautiful scenery, offering something for all of the family to enjoy. Although the county is known for being the birthplace of the industrial revolution, it is also home to acres of unspoilt beauty which you can explore to your hearts content. If you're looking for some recommendations of places to visit when you visit Shropshire, there are an abundance of unique spots which are a hit among all age groups. Whether you fancy visiting the old medieval cinema, seeing the railway that only operates up and down or heading to the old quarry which has been converted into a park, you'll never run short of things to do.
Depending on how much time you have available, choose from either full spa days in Shropshire or opt for an evening session if time is of the essence. After a hectic day of exploring, there is no better feeling than a lie down in your spa robe as you enjoy the relaxing atmosphere of a spa, enjoying a bit of pampering to refresh your body. Many of our packages also include additional extras such as a tasty lunch on site, spa treatments and a glass of bubbly so you can leave the hard work to us and look forward to the pamper you deserve during your spa days in Shropshire.
Book Your Spa Days in Shropshire
Over the years, we have built up some great industry partnerships which gains us access to exclusive deals that you will not be able to find elsewhere. We pride ourselves on offering something for everyone, maintaining a versatile selection of spa days in Shropshire so you can find the one that works for your busy schedule. If you have any questions or would like to speak to a member of the team about any of our package deals, do not hesitate to get in touch today.