Luxury Spa Breaks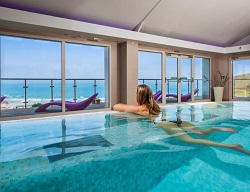 Perfect for special occasions, our range of luxury spa breaks allows you to truly switch off from the stresses of day-to-day life. If you're looking for a luxury spa day, weekend or longer stay, we offer a range of high-end spa breaks at some of the UK's best luxury spa hotels. With beautiful 5 star spa hotels dotted all across the UK, now is a chance to plan the luxury spa day you've been dreaming of.
Whether you'd rather escape to the countryside for an idyllic retreat in the hills, or visit your favourite city for a day of shopping followed by some well-earnt pampering, you'll find plenty of great options at one of our luxury spa hotels. Discover more below and enquire today!
Unwind at Luxury Spa Hotels
We know just how much of a difference a luxury spa break in the UK can make. Taking a well-deserved break from long working days and broken sleep is great for your well-being. By treating yourself to a luxury spa day, you can relax and unwind in tranquil surroundings.
We have partnered with a range of luxury spa hotels so you can enjoy a premium overnight stay at 4 and 5 star hotels whilst enjoying their high-end spa facilities for optimum levels of relaxation. All of our different spa break packages offer the premium touches that you would expect from 5 star luxury spa hotels, from heavenly pampering to top-of-the-range facilities.
Here at Spa & Hotel Break, we have over 10 years of expert experience in the industry. During this time, we have built up some great connections with luxury spa hotels across the UK. These partnerships mean we have access to unique spa deals on a luxury spa weekend that you will not find online anywhere else.
We are continuously adding brand-new luxury spa breaks in the UK to this page, so be quick as our best deals don't stick around for long!
Be Pampered at 5 star Spa Hotels
When it comes to planning a luxury spa break in the UK, nothing quite compares to the indulgence and opulence offered by 5-star spa hotels. These establishments redefine the concept of relaxation, creating an unforgettable experience for those seeking the ultimate in rejuvenation and pampering.
These spas are designed to transport you to a realm of bliss and serenity. From the moment you step into the spa, you'll be greeted by highly trained therapists who specialise in a range of treatments and therapies. If you're looking for a deep tissue massage, a rejuvenating facial, or a holistic wellness experience, 5-star spa hotels offer a wide array of options to cater to your specific needs.
Booking Luxury Spa Breaks in the UK
Whether you are looking to treat yourself to a night away at one of our luxury spa hotels or buy couples' spa breaks as a special gift for a loved one, you can find just what you are looking for in our collection. A luxury spa weekend can make an amazing surprise for birthdays, anniversaries, and other special occasions, treating you and your partner to a romantic getaway filled with quality time which may be lacking due to your busy schedules.
All of our listed luxury spa breaks in the UK make a great gift idea if you're unsure of what to buy for the person who says that they don't need anything! If you have left it until the last minute, then you can purchase a gift voucher which will be emailed directly to the recipient free of charge. You can personalise all luxury spa day gift vouchers with your own message to add that personal touch.
If you have any questions about our luxury spa breaks, please do not hesitate to contact us. Our friendly team are always on hand to offer advice or address any queries – give us a call on 0800 246 5511 today.
Luxury Spa Breaks UK FAQs
What is the dress etiquette for a luxury spa weekend?
During your luxury spa break in the UK, you can wear whatever you feel most comfortable in. Most hotels will provide you with a robe, towel, and slippers for walking between facilities and around the premises. Feel free to bring your own too. For treatments, you may wish to take two swimsuits with you – one for the water activities, and one for your treatments.
Some people even wear just their underwear during spa treatments. Others prefer to wear nothing at all. It is common etiquette for your therapist to leave the room while you undress and get settled under a towel/blanket ready for your treatment. They will only uncover the part of your body they are working on, so whatever you've chosen to wear, you will always be covered. If you are not comfortable or are unsure what to wear or how much to undress, just ask your therapist. They will always be more than happy to advise.
Can I book a luxury spa break as a gift?
Yes, all our listed luxury spa breaks make a great gift idea. If you're unsure of what to buy for a loved one who says they don't need anything, we have several gift vouchers available. Look at our gift voucher options to find one that suits you and your budget.
Do I need to be quiet during luxury spa breaks?
The main spa facilities aim to be tranquil and restful places – a retreat for most, especially on luxury spa breaks where people are paying for a premium experience. Therefore, it is respectable to use very quiet voices. However, you're not expected to be completely silent - part of enjoying the experience is often sharing it with friends. Just make sure you consider the comfort of other guests during your luxury spa break. For example, making a lot of noise and splashing loudly in the pool won't be welcomed, nor would it be expected from fellow guests in top-end hotels.