Spa Days in Newcastle
If you're seeking a rejuvenating escape from the hustle and bustle of everyday life, look no further than spa and hotel breaks in Newcastle. Nestled in the heart of Tyne and Wear, this vibrant city offers a delightful array of options for those in need of pampering and relaxation. With a wide selection of luxurious spa hotels and resorts, it's time to find your perfect destination for indulging in a spa day in Newcastle. Let's explore why choosing spas in Newcastle is a fantastic choice for your next wellness retreat.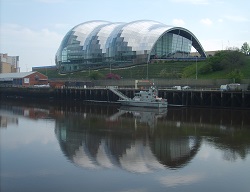 Why Choose Spas in Newcastle?
Unparalleled Luxury - When it comes to spa days, Newcastle does not disappoint. With its selection of top-notch spas, you can expect to be pampered in the lap of luxury. From opulent treatments to exquisite facilities, all spa days in Newcastle offer a unique and unforgettable experience.
Varied Selection of Spas - Spa days in Newcastle boast an impressive range of spas to cater to every preference. Whether you seek a tranquil countryside retreat or a chic urban oasis, you'll find the perfect spa to suit your desires. Each establishment has its own distinctive treatment menu, ensuring a personalised and memorable spa day.
Accommodation Excellence - Alongside exceptional spa facilities, the hotels in Newcastle are second to none. Many spas are located within luxury hotels, providing guests with a seamless experience of relaxation and comfort. After a day of indulgence, you can retire to your elegantly appointed room and enjoy a restful night's sleep.
How to Book a Spa Day in Newcastle
To book spa breaks in Newcastle, simply scroll down to the offers at the bottom of the page and explore the selection of spas available. Choose the one that suits your preferences and let us know if you're a solo traveller or if you're coming as a party of two. Spa breaks for couples are excellent bonding experiences!
You can easily book available dates through Spa and Hotel Break. Prior to your visit, take some time to relax and prepare yourself mentally for the indulgent experience that awaits. Approach your spa day with an open mind and embrace the serene atmosphere that surrounds you.
Indulge your senses, rejuvenate your mind and body, and experience the ultimate in relaxation and luxury in the vibrant city of Newcastle. Book your visit today and enjoy the offerings of Newcastle spas and hotel resorts.
Spa Day Newcastle FAQs
Are spa days in Newcastle suitable for couples?
Absolutely! Many spas in Newcastle offer couples' packages, allowing you and your partner to enjoy a romantic and rejuvenating experience together. Indulge in side-by-side treatments and create lasting memories of relaxation.
What should I bring to a spa day in Newcastle?
It's recommended to bring swimwear if you plan on using the spa's facilities such as swimming pools or hot tubs. You should also pack comfortable clothing for lounging and flip-flops or slippers for your convenience. Consider where else you might visit during your Newcastle spa day and pack accordingly.
Crowne Plaza Newcastle Hotel & Spa

Newcastle upon Tyne, Tyne and Wear

offers from
£70.00pp

Based in the heart of the city, you can relax, unwind and feel rejuvenated in the black tiled 10 meter swimming pool, spa, steam room and gymnasium. If you are looking for pure indulgence and total relaxation, we at Mineral House can provide you with a haven where the mind, body and spirit converge. Mineral House offers a stunning. . .

View Offer Details

Mercure George Washington Hotel, Golf & Spa

, Tyne & Wear

offers from
£65.00pp

The Mercure George Washington Hotel Golf and Spa is ideally located just 15 minutes from Newcastle Upon Tyne, Sunderland, Durham, 10 minutes from the Metro Centre and 15 miles from Newcastle Airport. Situated in close proximity to major road networks, this three star hotel boasts an 18 hole championship golf course and a state of the art gym, spa and. . .

View Offer Details

Holiday Inn Newcastle Gosforth Park

Seaton Burn, Newcastle upon Tyne

offers from
£59.00pp

Conveniently situated near Newcastle, in 12 acres of parkland next to Newcastle Racecourse, The Holiday Inn Gosforth Park is a contemporary hotel that's an ideal base for exploring the surrounding area, being just ten minutesí drive from the city centre and a 15 minute drive from the vibrant Quays area by the River Tyne. Welcoming solo travellers, families and groups. . .

View Offer Details