Spa Breaks in Wiltshire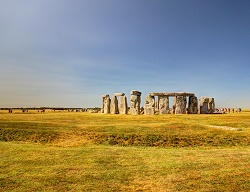 Located in South West of England, the wonderful area of Wiltshire is a delightful place to visit with many things to do. From the World Heritage Site at Avebury and the stunning Stonehenge to the beautiful small towns, stately homes, and magnificent Cathedrals – there's something here for everyone.
For a picturesque and relaxing getaway, spa breaks in Wiltshire will deliver exactly that. When you're not enjoying a pamper in the spa, Wiltshire is packed full of exciting activities to do and sights to see, making it the one of the most perfect locations for spa breaks in the UK.
Wiltshire is a lovely place to explore with your family with the most snapped attraction being the druid ring of standing stones at Stonehenge, or the huge white horses etched on Cherhill. Head into the buzzing market town Salisbury to mingle with the locals and enjoy some good food. Spa breaks in Wiltshire are ideal plan for your getaway, whether you are going away with friends, family, your partner, or even on your own.
Overnight Stays with Your Trip to a Spa in Wiltshire
For the ultimate time away, you can pair spa breaks in Wiltshire with an overnight stay in a spa in Wiltshire. Wiltshire is a county which boasts exquisite landscapes and beautiful scenery. With so much to do in Wiltshire, you may need to consider overnight spa deals rather than a day trip. You can easily find a spa in Wiltshire to accommodate your stay.
Wiltshire has plenty of walks and outdoor activities to keep keen walkers and explorers busy all day. Even more reason to pair spa breaks in Wiltshire with an overnight stay by picking a spa in Wiltshire. That way, you can put your feet up after a long day of exploring.
What could be better than a morning of adventurous fun, followed by an afternoon of pampering, relaxing, and recuperating in your chosen spa deal destination by the pool?
Choose a Spa in Wiltshire: Make A Trip Out of it
The spas and hotels available for spa breaks in Wiltshire have all the rejuvenating treatments you could think of, from a swimming pool, jacuzzi, gym and steam room. When you're not in one of the treatment rooms, you can take a dip in the pool or workout in the gym to stay fit and forget all your worries. The number of amenities at spa hotels in Wiltshire won't disappoint you during spa breaks in Wiltshire.
Each of the spa hotels in Wiltshire that have been listed for spa breaks in Wiltshire include all the information you would need regarding the spa and hotel, so you can make an informed decision as to which one would best suit your needs.
We could recommend the Milford Hall Hotel & Lime Tree Spa for one of the good quality, well priced overnight spa breaks in Wiltshire.
The Wiltshire Hotel, Golf & Leisure Club boasts an extensive range of treatments, contemporary British menus, and a beautiful course strategically designed around the many natural lakes that exist in this area.
For more information about spa breaks in Wiltshire and how to book one of our listed spa hotels in Wiltshire, get in touch with a member of our helpful team, today.
Spa Breaks in Wilshire: Book You Spa in Wiltshire Today
Enjoy one of our spa breaks in Wiltshire and savour it with a splendid stay in your choice of spa in Wiltshire. Go home feeling refreshed and your batteries fully recharged.
If you can't find what you're looking for in this area, please look at the other counties we have breaks listed in nearby, or if you would rather speak to a member of our experienced spa team call us for free on 0800 012 2000.
Milford Hall Hotel & Lime Tree Spa

Salisbury, Wiltshire

offers from
£160.00pp

The Milford Hall Hotel & Spa is a highly rated 4-star hotel in Salisbury. The hotel is conveniently located just off the city centre ring road and is situated only 5 minute walk from the historic market square in the centre of Salisbury and a short walk from the famous Salisbury Cathedral, museums and shops. The Georgian manor house was originally. . .

View Offer Details