Spa Breaks for Couples
Finding the time to unwind with a loved one is the perfect remedy for busy lives and hectic schedules. With our spa breaks for two, you'll have the opportunity to relax in tranquil settings in some of the most beautiful parts of the UK. Whether you need just a quick getaway for the day or are looking for overnight spa breaks for couples, we have plenty to choose from here at Spa and Hotel Break.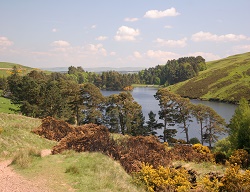 Browse our available spa hotels and facilities and enquire today about the offer you want to book. Our spa breaks for two promise to be the peaceful and relaxing trip you need at any time of year. Ideal as a gift or even as a surprise mini break, find out more about the wonderful venues we can offer and the fantastic prices to suit all budgets.
The Perfect Spa Breaks for Two
When was the last time you spent the day or weekend just relaxing with your partner? If it has been a while, it's time to find a spa break or spa day for two that will help you rediscover some much-needed downtime together. Just imagine being able to visit some of the most stunning spa hotels and facilities across the UK, putting on a super-soft dressing gown, and heading to the whirlpool or jacuzzi. You could be enjoying the peaceful countryside for breakfast or lunch, or letting your troubles melt away with a body massage. If this sounds like bliss for you and your partner, you'll find plenty of appealing offers we can help you arrange for that perfect getaway.
Each of the venues provides comfort and superb facilities that will whisk you away from your busy home or work life, helping you focus on each other and your well-being. Even if you only have time for a spa day for two, you'll be surprised just how much of a difference a few hours away can make to your overall health. Sometimes, you just have to put the phones away, remove any distractions, and focus on R&R to reset your body and mind and return to normality refreshed. Of course, if you can get away for longer, we have overnight spa breaks for couples waiting to be booked too. At the end of your first day, you can enjoy a delicious meal in the spa hotel restaurant and enjoy 4 or 5 star luxury rooms to rest up for a following day of pampering – bliss!
We've been helping couples enjoy their time together since 2006 at Spa and Hotel Break and can provide a simple booking process to find the available dates you need. We have partnered with many spa hotels across the country, so whether you want something closer to home or want to explore other parts of the UK, we have options from the South East to Scotland available.
Book a Spa Day for Two Today!
If the idea of a weekend or day away with a loved one with only relaxation in mind sounds ideal for you, spa breaks for 2 are a popular choice. Many of the hotels and facilities will have numerous activities for those new to the spa experience as well as those who have frequented a few before. From aromatherapy treatments to head and body massages, gym facilities, swimming pools, saunas and steam rooms, there's plenty to keep you busy. You'll be able to enjoy breakfast, lunch and dinner and explore the grounds of many of the larger hotels set within manor grounds.
If you have any particular requirements, please let us know. We hope to book you in for the blissful spa breaks for two you're looking for that can provide a romantic setting for a birthday or anniversary, whilst helping you enjoy the best spa treatments you'll find anywhere. Once you have found the offer you want to book, enquire online, or call us on 0800 246 5511.
Spa Breaks for Two FAQs
Do you have special offers on spa breaks for 2?
Yes, we can provide special offers on many bookings which you can find here online, helping you get a great price on spa breaks for 2. We also offer others types of spa packages including Sunday night special bookings and value dinner B&B breaks too.
Can I purchase gift vouchers for a spa day for two?
Yes, you can purchase gift vouchers if you want to treat a couple you know as a present. This will mean you won't have to worry about choosing a venue or selecting dates without speaking to the couple you're buying for. Provide them with a gift voucher to choose the location and dates best for them.
Where in the UK are spa breaks for two available?
You'll find spa days and overnight spa breaks for couples located all over the UK, from the North East to Wales and the South. We continuously add new venues to our availability so check back often to see what's new in your area to book.