Spa Breaks Lancashire
If Lancashire is your chosen location for spa breaks, we have an array of beautiful and affordable spa hotels and spas available for you to book. Whether you want to take a lively and action-packed trip to Blackpool, or the calmness and serenity of a semi-rural spa break near Blackburn sounds more appealing, you can find it here with our unmissable spa deals. Spa breaks Lancashire will give you the option to visit neighbouring cities, such as Liverpool and Chester which both offer a great day out, no matter who you have travelled with.
A spa break in the Imperial Blackpool Hotel will give you direct access to one of the UK's liveliest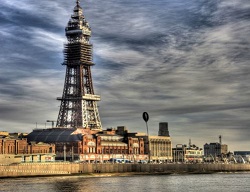 towns. The hotel is located on the North Promenade and is only a short walk from the centre of Blackpool, so you can spend the day on the sea front or even visit the pleasure beach and enjoy a day on thrilling rides. This area is also packed with great bars and restaurants, so you can treat your taste palette and quench your thirst whenever you need to.
Our spa breaks Lancashire hotels don't just end there. If you want to enjoy a spa break in the heart of a city, then our Hallmark Hotel Manchester and The Midland Manchester are ideal. Despite being in the city centre, both these hotels have swimming pools and still offer all the spa treatments that you need in order to relax. Due to their central location, you can explore the city with ease and not have to worry about paying for transport in and out of Manchester. Therefore, during our luxury spa breaks Lancashire, you can take your time and have a dip in the pool or a massage before taking a calm stroll.
Enjoy Our Luxury Spa Breaks Lancashire
We provide luxury spa breaks Lancashire and have three venues which are all part of the Mercure hotel chain located within Lancashire. All three have very similar rates and offer an excellent standard of both hotel and spa facilities. If it's a relaxing spa break in Lancashire that you want then one of the these three hotels could be for you. Each with great access to the wonderful countryside walks and a short drive from Pendle Hill, a place to explore and find out for yourself about the tale of the Pendle Witches.
Our spa breaks Lancashire are suitable for everyone; choose the package type that best suits you and book your weekend getaway, today. Every hotel has your enjoyment as a priority, which is why our spa breaks Lancashire have so many spa treatments to choose from, an array of delicious meals and our hotels have a pool, sauna and jacuzzi for ultimate relaxation.
If you would like more information about how you can book one of our rejuvenating, luxury spa breaks Lancashire, don't hesitate to get in touch. Our friendly team will find the perfect spa, hotel and package to accommodate exactly what you are looking to gain from one of our spa breaks Lancashire.