Spa Days in County Durham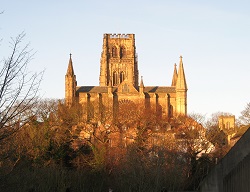 Historic County Durham has long been a popular destination for travellers over the last few hundred years with its many historical Inns and hotels. To give yourself a well-deserved break after all of the exploring, remove yourself from the stress of day to day life and enjoy luxury spa days in County Durham. As you head to the spa of your choice, immerse yourself into the day with a spa treatment or two, a gentle swim in the pool, and some quality time with your loved ones. Once you've worked up an appetite during your spa days in County Durham, treat your taste buds to some delicious food on site or head out to one of the local restaurants.
Please call us on 0800 0122000 for advice or to check availability on any of our spa days in County Durham. In addition, all our spa days can also be purchased as gifts directly on this website.
Choose the Ideal Spa Days in County Durham
We offer spa days in County Durham to suit every budget. The Hall Garth Hotel near Darlington is a 15th century manor house that offers spa deals which are just what you are looking for. If you require even more luxury and grandeur from a spa day, then the amazing Redworth Hall, set in 150 acres of stunning woodland, may just be the one. Relax in the pool, sauna, jacuzzi or steam room or drift away in one of the warm and serene treatment rooms with an intoxicating massage from a qualified therapist. Either of these hotels will look after your therapeutic needs, leaving you feeling refreshed and invigorated.
The staff at all of our venues are there to cater to your ever need, so don't be afraid to ask should you require something in your room or as part of your spa treatments to make your spa day extra special.
Spa Days in County Durham Set in The Heart of The Area
Escape from your daily routine at one of our spa days in County Durham and explore this amazing county on a weekend or as a midweek treat. With breath-taking scenery, award-winning attractions and world-class exhibitions, festivals and events, you'll never be short of something to do.
By choosing our spa days in County Durham, you will find yourself in this fantastic city located in the North East of England, which is home to the magnificent Durham Cathedral. Together with adjacent Durham Castle, this UNESCO World Heritage Site forms one of the most stunning city panoramas in Europe. Seek out hidden gems in market towns and villages after relaxing and enjoying tranquillity from one our spa days in County Durham or embrace the peace of the countryside and ultimately unwind, whilst you either walk or cycle around the many routes in the area with unforgettable views. There are several nature parks where you can discover more about the wildlife of the county; you can visit either the outdoor activities centre or the national nature reserve, where you can immerse yourself with the beautiful countryside County Durham has to offer.
The Morritt Hotel & The Garage Spa

Barnard Castle, County Durham

offers from
£75.00pp

The Morritt Hotel, with a laid-back atmosphere and a superb period architectural interior, is close to Durham City and Barnard Castle. The wide variety of room types and styles offer something for everyone, from contemporary to ornate, historic interiors with four poster bed options or lavishly decorated suites. With a choice of two restaurants, there's sure to be something to. . .

View Offer Details

Hall Garth Hotel & Spa

Darlington, County Durham

offers from
£30.00pp

The 15th century manor house which is the Hall Garth Hotel & Country Club offers comfortable accommodation in beautiful County Durham. Originally part of the Bishop of Durham's estate, the Hotel is set in beautiful countryside, but is handily located only half a mile from main roads in the area. Each of the 56 contemporary and traditional rooms offer stunning. . .

View Offer Details