Spa Breaks Kent
Kent, a region known for its awe-inspiring countryside, fascinating historical towns, and coastline, beckons you to embark on an invigorating spa weekend. In the hustle and bustle of daily life, taking a moment to unwind and recharge becomes essential for nurturing a healthy and balanced lifestyle.Therefore, indulging in UK spa breaks in Kent emerges as an ideal choice to prioritise self-care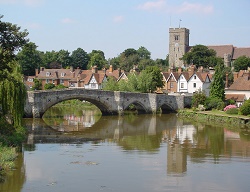 Immerse yourself in the restful surroundings of Kent's spa retreats, where every element is thoughtfully designed to create an atmosphere of pure relaxation. Let the soothing air of our partnered spa hotels and resorts embrace you as you step into a softer world, away from the stresses and demands of everyday life. Skilled spa therapists, experts in their craft, stand ready to guide you on a journey of rejuvenation and renewal.
Things to Do on Your Kent Spa Break
For those seeking delightful South East spa days, this enchanting region offers a plethora of captivating destinations to explore. Immerse yourself in the scenic beauty of Sissinghurst Castle Garden, where meandering through its exquisite gardens becomes a rejuvenating experience. Alternatively, embark on a captivating journey through the historic city of Canterbury, where the majestic cathedral and quaint shops transport you to a bygone era of charm and elegance.
Kent's coastal gems beckon with their stunning beaches. Marvel at the sun-kissed shores of Margate, Broadstairs, and Ramsgate, where the rhythmic waves create a harmonious backdrop for rest and peace. For an excellent encounter with nature, venture on a scenic walk through the mesmerising White Cliffs of Dover, where the coastal vistas paint an impressive picture of serenity.
Why Choose Spa Breaks in Kent
Kent is home to numerous tranquil havens and nature reserves, such as Blean Woods and the Hucking Estate. These settings offer opportunities for quiet contemplation, long walks, and a deep connection with the surrounding natural environment, enhancing the overall peacefulness of your spa break.
The spas in Kent boast highly skilled and professional therapists who are dedicated to providing exceptional service. Their expertise ensures that your spa treatments are executed with precision and care, leaving you feeling refreshed, revitalised, and truly pampered.
Booking your Spa Breaks Kent
For those seeking exquisite spa breaks in Kent, look no further than Spa and Hotel Break. Our esteemed company specialises in curating a diverse selection of spa break packages tailored to accommodate various preferences and budgets. With our offerings, you can indulge in opulent spa treatments, relish comfortable stays at our handpicked selection of premier spa hotels and resorts in Kent, and savour delectable meals throughout your getaway.
By choosing to book your spa packages with Spa and Hotel Break, you gain access to an array of exclusive deals and enticing discounts. We have established partnerships with some of the most prestigious spa resorts in Kent, enabling us to present you with the best rates and comprehensive packages that cater to your needs. Trust in Spa and Hotel Break to secure your dream spa break package today, and revel in the privilege of enjoying exceptional deals and discounts that are reserved exclusively for our valued guests.