Spa Break for 2 Nights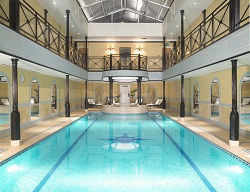 Two night spa breaks are the perfect opportunity to embrace a full state of relaxation and get away from the hectic routine of day to day life. If you like the sound of enjoying not just one, but two nights filled with pure bliss, then take a look through our great deals to find the ideal spa break for 2 nights
Whether you're looking into 2 night spa breaks for couples, a getaway with your closest friends or even some me time filled with pampering, the options are endless. A spa break for 2 nights allows you to double your relaxation, giving you the perfect excuse to not only find some peace and quiet in the relaxing spa whilst being pampered from head to toe, but it also gives you plenty of time to explore the local area and surroundings.
What is included with Two Night Spa Breaks?
We offer a range of different packages which vary to offer even the fussiest visitor the ultimate spa breaks for 2 nights dependant on their preferences. As standard, our two night spa breaks tend to include two nights' of accommodation at your chosen spa hotel, a tasty cooked dinner both evenings, breakfast both mornings to start the day right and two treatments per person (unless stated otherwise).
For the nature lovers, a trip to the countryside surrounded by acres of beautiful scenery and breath taking walking routes sets the scene for ideal 2 night spa breaks for couples, breathing in fresh air following their pampering spa treatments. For those who prefer a livelier surrounding, opting for two night spa breaks within city centre spa hotels allows for a night spent in the bustling bars followed by a morning of pure relaxation or a day spent hitting the shops before heading back to rest their aching feet in their luxury hotel room. Across the UK are hundreds of attractions that are available to visit whilst on your spa breaks before heading back to the hotel to make the most of the indulgent facilities. With various locations to choose from, pick from spa breaks in Scotland, Wales and England to find a location that suits you.
Booking your 2 Night Spa Breaks for Couples & Loved Ones
In addition to treating yourself to a well earnt spa break for 2 nights, a spa package makes an ideal gift. 2 night spa breaks for couples are perfect if you are looking to treat newlyweds or celebrate special occasions, creating lifelong memories to cherish.
If you are interested in booking a two night spa break, whether it's for yourself to enjoy or as a special gift, take a look through our range of options to find the perfect option for you. If you have any queries or questions, our friendly team will be more than happy to help. Contact us online and we aim to respond to you within 30 minutes, or alternatively, call us on 0800 246 5511 for an instant response. We look forward to hearing from you!