Spa Break for 2 Nights
Our spa deals are tailored to provide you with the perfect weekend getaway, offering rejuvenation and serenity in abundance. Don't miss out on this opportunity to unwind and refresh your body and mind – book your 2-night spa break now!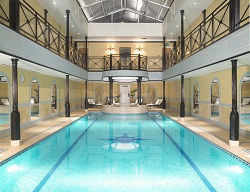 Benefits of Weekend Spa Breaks
A weekend spa break is not just a vacation; it's a chance to rejuvenate, reconnect, and rediscover yourself. When you indulge in one of our 2-night spa breaks, you unlock a world of benefits. Firstly, it provides the perfect escape from the stresses of daily life. You can leave behind the deadlines, emails, and chores and immerse yourself in a world of harmony.
Our luxury spa breaks allow you to explore the beauty of your chosen location. From seaside retreats to countryside havens, there are endless opportunities to discover hidden gems, local cuisine, and scenic views during your stay. It's the perfect balance of relaxation and exploration.
2-Night Spa Breaks for Couples
Are you looking for a romantic weekend getaway? Our 2-night spa breaks for couples are the perfect choice. We understand the importance of spending quality time with your loved one, and that's why we offer tailored packages that are designed to enhance your bond. From intimate spa treatments to cosy evenings by the fireplace, our couples' spa breaks are a recipe for romance. For even more romantic options, explore our dedicated page for spa breaks for couples! It doesn't matter if you're celebrating a special occasion or simply craving some quality time together, our couples' packages are sure to create unforgettable memories.
Book a 2-Night Spa Break
Booking your dream 2-night spa break with Spa & Hotel Breaks is easy. Simply follow these steps:
1. Visit our website and browse our selection of 2-night spa breaks.
2. Choose your preferred location and package.
3. Click for more details to see any available upgrades
4.Call us to book now!
Our user-friendly booking system ensures a hassle-free experience, so you can focus on the anticipation of any of your upcoming spa weekend breaks.
Our weekend spa breaks and 2-night spa breaks for couples are the epitome of relaxation and romance. With a wide range of benefits, hassle-free booking, and the opportunity to explore beautiful locations, it's time to treat yourself and your loved one to a weekend of pure indulgence. Book your spa weekend breaks now – you deserve to treat yourself to some downtime.
Weekend Spa Break FAQs
What should I pack for my 2-night spa break?
When packing for your weekend spa break, remember to include comfortable clothing for lounging, swimwear for spa facilities, and any specific attire required for dining. Don't forget your toiletries and essential documents, such as ID and booking confirmation.
Can I customise my 2-night spa break with additional treatments?
Absolutely! We offer a variety of spa treatments and extras that you can add to your package during the booking process. Whether you desire a soothing massage, a facial, or a romantic dinner, we have options to make your stay even more special.