Spa Breaks in Wales
Medieval architecture, rugged coastlines, breathtaking views and a capital city worthy of a trip all of its own, Wales is brimming with unique sights and refine culture to explore. Rolling hills and towering mountains erupt from the ground in stunning peaks, giving you the perfect backdrop for a relaxing escape with our collection of the spa breaks Wales has to offer.
Alternatively, fans of the bustling city won't be disappointed with the nation's captivating capital. Cardiff plays host to a medieval castle, a bright bay and plenty more. A city break to one of our spas and hotels here will give you the perfect opportunity to get out and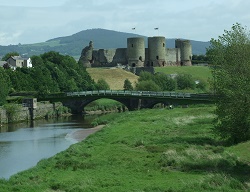 explore, before returning to treat yourself to a massage or two as part of your spa deals.
The best spa breaks Wales has to offer can provide every guest with a truly relaxing experience, helping them to immerse in a holiday they'll be sure to remember for years to come. Each spa has its own speciality treatments, all of which could be available as part of one of our packages. Whether you're seeking a simple day trip with a massage and a facial or two, or you're looking to indulge in a longer break and the opportunity to release some emotional stress, our collection of spa breaks are sure to have a location to cater to your every need.
Whether you choose authentic castles that have been adapted especially for spa treatments, or a modern spa facility right in the heart of Cardiff, why not take a look at the collection of spa breaks Wales has to offer, below? We only list the best prices and packages, so browse our collection, today.
Why Should I Book Spa Breaks Wales?
We all deserve a spot of pampering from time to time and with a spa break, you can get exactly that. All attention will be on you throughout your stay, with staff and specialists alike dedicating time and expertise to ensuring you get the very best care and treatment for the duration. Whether you'd prefer a short, one-night break that gives you just enough to recuperate before returning to everyday life, or you'd prefer a longer break to truly indulge and treat yourself to an escape, our collection of hotels can provide exactly that.
With years of experience and valuable relationships with the hotels and resorts we list here on our website, each of the spa breaks Wales packages we offer are carefully tailored with our clients in mind. We are able to offer discounts and deals that aren't available anywhere else and with a range of different packages to choose from, there's something to suit every budget and taste.
Whether you're packing up your walking boots for a countryside ramble or your camera to take advantage of plentiful photo opportunities, there's certainly no shortage of things to do, see and enjoy while indulging in spa breaks Wales packages.
If you're interested in a spa package with us here at Spa & Hotel Break, our collection is guaranteed to have something to cater to your every need and desire. Simply take a look at what's on offer below, pick out your favourite and book! Alternatively, get in touch with us for bookings and advice on 0800 246 5511, today.