Spa Breaks Devon
Step into the serene and picturesque county of Devon, where breathtaking landscapes and soothing spa experiences combine to create an unforgettable retreat. At Spa & Hotel Break, we are dedicated to curating the most delightful spa breaks in Devon, ensuring a perfect fusion of the region's beauty and the impeccable offerings of our esteemed spa and hotel partners.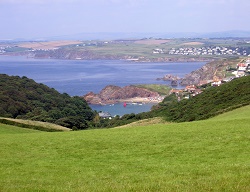 Whether you're yearning for a solo escape to find solace in the tranquil surroundings, planning a romantic getaway to reconnect with your loved one, or seeking a fun-filled break with friends, Devon has something extraordinary in store for you. Embrace the allure of this captivating destination as you embark on a journey of relaxation, rejuvenation, and discovery.
From the moment you arrive, you'll feel the cares of the world melt away, replaced by a sense of peacefulness and a renewed connection with yourself. Prepare to be enchanted by the charms of Devon as you embark on an indulgent spa break like no other.
Things to do in Devon
When you choose a spa break in Devon, you open the door to a world of enchanting experiences waiting to be explored. The diverse landscape of this captivating county offers an array of activities to complement your spa retreat and enrich your senses.
Embrace the coastal charm by taking leisurely walks along the sandy beaches that stretch as far as the eye can see. Feel the gentle sea breeze caress your face as you stroll hand in hand with your loved one, or simply relish the solitude as you walk along the water's edge, leaving behind the stresses of everyday life.
For nature enthusiasts, a visit to Dartmoor National Park is a must. Lose yourself in the vast moorlands, dotted with ancient stone circles and picturesque streams. Breathe in the crisp, clean air as you venture through the park's scenic trails, each step offering a deeper connection with nature and yourself.
Devon's charm extends beyond its coastline and moors, with beautifully manicured gardens that add a touch of elegance to the region. Wander through these enchanting havens, where vibrant blooms and lush greenery create a symphony of colors and scents, transporting you to a world of serenity and bliss.
Types of Devon Spa Breaks
We understand that every individual seeks a unique spa experience. That's why our Devon spa breaks cater to various preferences, ensuring everyone finds their perfect escape. For couples seeking romance, our specially designed couples' spa breaks in Devon offer intimate settings and shared relaxation experiences. If you're planning a group getaway, our South West spa breaks cater to friends and family, with group packages and activities to bond over.
For those who love both spa indulgence and golfing, our spa breaks in Devon combine the best of both worlds, letting you unwind on the greens and in the spa's blissful atmosphere. Contact us to find out which resorts offer golfing or where you can find golf nearby.
Devon Spa Break Deals
At Spa & Hotel Break, we believe that the joy of relaxation should be shared. That's why we offer exciting deals on our spa breaks in Devon. Gather your friends, family, or colleagues and escape to Devon for an unforgettable experience of bonding, pampering, and discovering calm in this idyllic setting. Our duo and group deals ensure that everyone can partake in the calming atmosphere that Devon and our partner spa hotels have to offer.
Devon is a haven for those seeking solace and rejuvenation. With Spa & Hotel Break, you can embark on a spa break in Devon like no other, where the beauty of the region harmonises with the luxurious treatments offered by our esteemed spa and hotel partners. Whether you're unwinding as a couple, bonding with friends, or treating yourself to a golf and spa escape, Devon's serene surroundings will enhance your experience, leaving you with cherished memories and a renewed sense of calm. Let us guide you on this blissful journey as you explore the best spa breaks Devon has to offer.
Devon Spa Breaks FAQs
What is the best time to visit Devon for a spa break?
Devon's beauty knows no bounds throughout the year. Spring offers blooming gardens, summer promises sunny beach days, autumn brings vibrant foliage, and winter casts a cosy charm. Choose the time that aligns with your preferences.
What spa treatments can I expect during my stay?
Our partner spas in Devon offer a wide range of treatments, including massages, facials, body wraps, and more. Rest assured, you'll find the perfect indulgence for your senses.
Are there any outdoor activities near the spa locations?
Absolutely! Devon's natural beauty invites you to explore hiking trails, cycling routes, and water sports, ensuring adventure alongside relaxation.
Do the hotels cater to dietary preferences?
Yes, our partner hotels in Devon are known for their exceptional dining options, accommodating various dietary requirements to ensure a delightful experience for all guests.
The Imperial Torquay Hotel

Torquay, Devon

offers from
£135.00pp

Torquay Imperial Hotel is ideally located overlooking the bay of one of the UK's top holiday destinations since Victorian times. Take time out on your spa break to discover the lively Torquay harbour and international marina which are focal points in the town, but you'll find that everyone will be kept busy with bustling pavement cafés, quality shops and beautiful. . .

View Offer Details