Spa Days Bedfordshire
In the tranquil heart of East Anglia, nestled amidst picturesque landscapes and rolling countryside, lies Bedfordshire—a hidden gem for spa enthusiasts seeking rejuvenation and relaxation. Bedfordshire spa days offer a unique blend of natural beauty, world-class spa offerings, and easy accessibility, making it an enticing destination for those in search of the ultimate spa experience.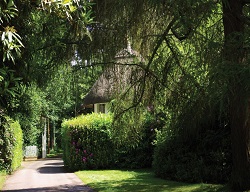 Why Choose Spa Days in Bedfordshire
Bedfordshire has earned its reputation as a spa haven for several compelling reasons. The region boasts an abundance of stunning spa resorts and hotels, each promising a retreat from the hustle and bustle of everyday life. Whether you're a local resident looking for a quick escape or a traveller seeking solace, the spa offerings in Bedfordshire have something for everyone.
One of the key benefits of choosing Bedfordshire for your spa day is the sheer variety of experiences available. From cosy countryside retreats to luxurious spa hotels, the options are diverse and cater to different tastes and preferences. The serene surroundings of Bedfordshire create the perfect backdrop for relaxation, allowing you to unwind and rejuvenate in style.
Another reason to opt for spa days in Bedfordshire is the exceptional quality of treatments and therapies on offer. Highly trained therapists use a range of premium products to pamper you from head to toe. Whether you're in the mood for a traditional massage, a rejuvenating facial, or a soothing body wrap, the skilled professionals in Bedfordshire ensure that every spa-goer leaves feeling utterly refreshed.
The health benefits of spa days in Bedfordshire are substantial. The therapeutic effects of hot tubs, saunas, and steam rooms are well-known, helping to relieve stress, alleviate muscle tension, and promote overall well-being. In addition, many spas offer fitness facilities and wellness programs to support your physical and mental health during your visit.
What to Consider When Booking a Spa Day in Bedfordshire
Booking a spa day in Bedfordshire is a straightforward and enjoyable process. Begin by exploring the selection of establishments listed on our website, each with its own unique charm and offerings. Once you've found the perfect spa for your needs, check for any available offers or packages to maximise your experience.
When planning your spa day, it's important to consider what you'll need to bring. Typically, guests are advised to bring swimwear and comfortable clothing. However, most establishments provide robes, towels, and slippers for your convenience. Feel free to contact the spa directly to inquire about any specific requirements.
To ensure you make the most of your spa day, it's essential to arrive on time. Spa resorts and hotels often have check-in times to ensure a smooth experience for all guests. Be sure to ask the spa hotel about their check-in times when booking and plan your arrival accordingly. This will allow you to settle in, change into your spa attire, and start your day of relaxation without any rush or stress.
Call us to book your Bedfordshire spa days today!
Spa Days Bedford FAQs
What types of treatments are available in Bedfordshire spas?
With our Bedfordshire spa deals, you'll find a wide array of indulgent treatments tailored to meet your specific needs. These treatments encompass the entire spectrum of spa experiences, including but not limited to massages, facials, body scrubs, aromatherapy, hydrotherapy, and more. The highly skilled therapists at Bedfordshire spas are trained to provide a holistic approach to wellness, ensuring that each treatment not only relaxes the body but also rejuvenates the mind and soul.
Are spa days in Bedfordshire suitable for special occasions?
Spa days in Bedfordshire are perfect for commemorating special moments and milestones in your life. Many of the region's spa resorts offer carefully curated packages designed to enhance celebrations such as birthdays, anniversaries, bridal parties, or simply a memorable getaway with loved ones. These special occasion packages often include exclusive treatments, private lounges, and personalised touches to make your day truly exceptional.
Is it necessary to make a reservation in advance?
Booking your spa day in advance not only guarantees your preferred treatments and appointment times but also allows the spa to tailor your experience to your individual preferences. While some spas may accommodate walk-in guests, it is highly advisable to make a reservation in advance to ensure a seamless and stress-free experience. Bedfordshire spa days tend to be in high demand, particularly during peak seasons or on weekends.
Are spa facilities accessible to non-hotel guests?
Many of Bedfordshire's spa facilities extend a warm welcome to both hotel guests and day visitors alike. If you're not staying overnight at the spa hotel, you can still partake in the indulgent spa experience by booking a day spa package. This means you can enjoy access to the spa's world-class facilities, such as saunas, steam rooms, pools, relaxation lounges, and more, all without the need for an overnight stay.
No deals have been found!
It might be worth trying to broaden your search parameters or contact us directly on 0800 2465511