Spa Getaway - Breaks for Three People
Have a party of three people? No problem! Here at Spa and Hotel Break we understand that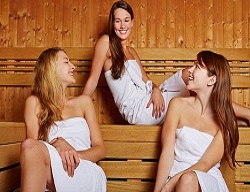 there may not be just an equal number of you and your friends. To make things easier for you, we have put together a list of hotels that are able to accommodate three people in one room. These hotels are available all over the UK so don't waste any time, and get searching for your perfect spa deals for you and your friends below.
On selected spa getaways and breaks at our spa hotels, we are able to offer a bedroom which will accommodate three people. This is usually a triple room or a twin room with an extra bed put in. Our prices are based on two people sharing but these hotels have the option to upgrade to three people in a room. If you cannot find what you are looking for in this section, we can provide a double or twin room with an optional single room at most hotels. Please contact us for and details or queries about your selected hotel. We'll do our best to assist you in finding your perfect spa breaks UK; with spa breaks Scotland, Wales and England to choose from.
Spa Breaks for Three FAQs
Do you have discounts available for group bookings?
There are many different discount options available, including group booking deals. Take a look for the best option for you in our special offers options.
How do you book breaks for three people?
It's very easy to book spa breaks for three people:
1. Simply choose a hotel or spa from our website – to make things easier for you, we have put together a list of hotels that are able to accommodate three people in one room. You can choose hotels either by the area within the UK or by how far you're willing to travel from your postcode.
2. Once you've chosen your hotel, you can call us free of charge on 0800 246 5511 (Free from mobile phones), send us a message via our live chat or email us using our contact form to check availability.
3. We will call or email you back within 30 minutes (in most cases) with whether your break is available. If treatments are included in your package, we will check availability for those too.
4. All being well and you choose to proceed with the booking, we can take full payment or secure your booking with a deposit. For spa breaks for three people, we can accept a £20 per person deposit with the balance due 14 days before your arrival date.
5. Finally, we will then book your accommodation and provide a booking confirmation by e-mail.
Should I book a table for dinner for our spa break for three?
Again, this depends a bit on the spa of your choice, and you should discuss it with our team upon booking. However, most spa restaurants do get booked up in advance, so it's a good idea to book your meals in at the same time as booking your spa break.