Spa Evening
Here at Spa & Hotel Break, we can offer you the ultimate evening escape with our luxurious spa evening packages. Unwind, de-stress, and rejuvenate with a variety of treatments, all complemented by an overnight stay in some of the finest spa hotels and resorts across the UK. Indulge in pure relaxation as we take care of your well-being, making sure you wake up refreshed and ready to take on the day. Find your 'twilight spa near me' without having to sift through pages of search results!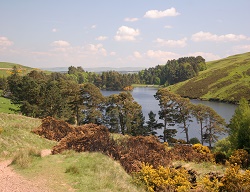 Twilight Spa Packages
We understand the toll that a busy workweek can take on your mind and body. Our spa evening packages are designed to help you leave the stresses of work behind and step into a world of tranquillity. Picture yourself arriving at a stunning spa resort on a Friday evening, where you can let go of the week's burdens and embrace a blissful weekend. Alternatively, if you need a mid-week escape, we have plenty of spa locations near your workplace, allowing you to arrive, unwind, and wake up refreshed, ready to conquer the day ahead.
Treatments Available with Our Twilight Spa Packages
With Spa & Hotel Breaks, you can expect a delightful range of treatments that will leave you feeling pampered and rejuvenated. Our listings feature handpicked hotels, such as:
1. Cotswold House Hotel & Spa (Chipping Campden, Gloucestershire) offer a range of spa evening packages, including full-body massages and facials. Their skilled therapists will leave you feeling completely relaxed and revitalised. If you crave customisation, this hotel allows guests to choose a treatment from their spa menu for 30 or 60 minutes. Delight in their tranquil setting and first-class amenities, making it a perfect choice for your evening escape.
2.Ringwood Hall Hotel and Spa (Chesterfield, Derbyshire), which is perfect for a truly immersive spa experience. With picturesque views set in 29 acres of parkland, this hotel ensures a delightful twilight spa break. Unwind with a calming massage, and allow the serene ambience to transport you to a state of pure bliss.
3.The Whitewater Hotel (Newby Bridge, Cumbria) situated in Lakeland village, one mile south of the world famous Lake Windermere and Ulverston, this spa hotel is a unique setting for your twilight spa experience. Escape the hustle and bustle of everyday life and indulge in a relaxing facial, leaving your skin radiant and refreshed.
We do, of course, have plenty of other wonderful spa resorts and hotels, each with their own menu of high-quality spa treatments. Find your perfect match at the bottom of this page, where all of our twilight packages are listed.
How to Book a Twilight Spa Break
Booking your dream twilight spa break with Spa & Hotel Breaks is quick and easy. Simply visit our website and find the page dedicated to our package deals for spa resorts and hotels offering twilight spa breaks. Explore the various options available and click on your preferred hotel to learn more about their exclusive package.
Once you've found your ideal spa retreat, follow the user-friendly booking process on our website. Enter your preferred dates, select your desired treatment, and proceed with the reservation. We take care of the rest, ensuring you have a seamless and stress-free booking experience.
Embrace the luxury of our spa evening packages, where relaxation meets rejuvenation. With Spa & Hotel Breaks, your evening escape awaits, promising an unforgettable experience filled with blissful treatments and an overnight stay in some of the most enchanting settings across the UK. Book your twilight spa days today!
Twilight Spa FAQs
What is included in a twilight spa package?
Our Twilight Spa Package offers a delightful combination of evening spa treatments and an overnight stay at one of our handpicked hotels or resorts. The package typically includes access to spa facilities, treatments such as full-body massages and facials, and an overnight stay with dinner and breakfast.
Can I book a twilight spa near me for any day of the week?
Yes, absolutely! Our twilight spa packages are available throughout the week, including Friday nights to kickstart your weekend with relaxation. We also offer options near your workplace, so you can book for weekdays, allowing you to wake up refreshed and ready to tackle your workday.
How do I choose a treatment for my Twilight Spa Break?
The treatment options vary depending on the hotel or resort you choose. Some locations offer pre-defined treatments as part of the package, while others allow guests to select a treatment of their choice from their spa menu. Before booking, you can review the specific treatments available at your preferred destination to ensure it aligns with your preferences.
Can I book a twilight spa near me online?
Yes, you can conveniently book your Twilight Spa Package online through our website. Browse our package deals for spa resorts and hotels offering twilight spa breaks, select your preferred hotel, and proceed with the booking process. Enter your desired dates, choose your treatment, and secure your evening of blissful relaxation with just a few clicks. Our online booking system ensures a seamless and hassle-free experience for our valued guests.
No deals have been found!
It might be worth trying to broaden your search parameters or contact us directly on 0800 2465511