Spa Days Lancashire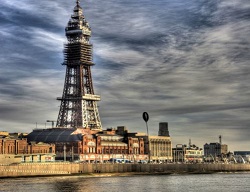 A spa day deal in Lancashire couldn't be a better way to embrace what this county has to offer. From locations such as the historic seaside of Blackpool, with the seasonal illuminations and thrilling pleasure beach, to the quiet country surroundings and gardens of Dunkenhalgh near Blackburn, there is plenty of diversity on offer. We have plenty of Lancashire spa days and breaks to choose from, all at fantastic prices that will suit all budgets. Browse the many great deals we have here at Spa and Hotel Break and book your relaxing getaway today.
Relax & Unwind with Spa Days in Lancashire
Every hotel in our Lancashire spa days and breaks is easily accessible by road and many by train. All offer excellent value spa day packages that will help save you money. Most spa packages include treatments, with many including lunch as well as part of the deal. Manchester is one location that is ever popular in Lancashire, with numerous opportunities for spa days that are not far from this city hub. With its many local attractions and exciting nightlife, you can book overnight spa breaks that include a cosy warm bed to come back to after a good night out.
The Rena Spa at The Midland is one Manchester location that has sumptuous rooms to relax in, and full use of leisure facilities providing serenity in one of the busiest cities in the UK. From £74.50pp, you won't want to miss this stunning offer. We also have great options in Bolton, Rochdale, and Blackburn, with the Mercure Dunkenhalgh Hotel and Spa available at just £55.00pp, providing 4-star comfort in its marvellous 700-year-old surroundings.
Lancashire Spa Days & Breaks at Great Prices
If spa days in Lancashire sound like your idea of paradise, all you have to do is select a hotel from our range, then call us on 0800 2465511 to check availability, or send an online enquiry. Alternatively, all our spa days are available as gifts for those special people in your life which you can buy online. We've made the process as simple as possible so that you can discover the perfect spa hotels in the UK and book the dates you need. If you leave us an enquiry, we'll get back to you as quickly as possible, usually within 30 minutes. If the dates you need are available, we can book you in swiftly and send you the full details. We aim to have you booked in on your desirable dates quickly so that you can start planning the treatments you want to have and make the necessary travel arrangements.
Not only can we provide great spa days in the North West, but we also have many regions across the UK where you can relax and unwind to your heart's content. Be sure to discover deals in a region near to you or try somewhere different for a full weekend away experience. Browse Spa Days Lancashire deals as well as Cumbria, Cheshire, and Merseyside for the full North West selection and contact us to discover more.