Spa Days Lancashire
A spa day deal in Lancashire couldn't be a better way to embrace what this county has to offer. From the sea-side Blackpool Imperial Hotel,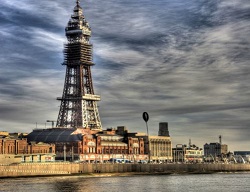 with the seasonal illuminations and thrilling pleasure beach, to the quiet country surroundings and gardens of the Mercure Dunkenhalgh hotel near Blackburn - there is plenty of diversity on offer. Every hotel in our Lancashire section is easily accessible by road and many by train, and all offer numerous excellent value spa day packages. Most packages include treatments and many include lunch as well as part of the spa day deal. Manchester is another popular Lancashire destination with numerous opportunities for Spa Days from £55 per person including a spa treatment, full use of the leisure facilities and serenity in one of the busiest cities in the UK.
Manchester with its many local attractions and exciting night life is always popular, especially if you book overnight spa breaks that includes a cosy warm bed to come back to after a good night out. If a spa day in Lancashire is your kind of thing please select a hotel from our choice below and then call us on 0800 0122000 to check availability. Alternatively all our spa days are available as gifts for those special people in your life.