Luxury Spa Break Midlands
The Midlands offer such a vast array of unique Midlands spa deals to choose from, with stunning venues available for a one or two night spa break Midlands. A spa break is a great way to escape everyday life, whether it is a special occasion or you are looking to treat yourself, we are confident we can offer a Midlands spa break to meet the highest of expectations.
As well as spectacular spa hotels Midlands, a spa weekend by Spa & Hotel Break consists of so much more. Be sure to look into the many tourist attractions available within the Midlands, there are plenty of activities for all ages to enjoy. From a night out in the city lights with a group of your friends, to a more relaxed evening within your chosen hotel's bar followed by a film in your room with a loved one, Midlands spa breaks will create lifelong memories to cherish.
Beautiful Spa Hotels Midlands
Our range of Midlands spa hotels offer amazing spa breaks to let you escape the stress of everyday life, submerging you into the calming atmosphere of a spa break Midlands. Location is important which is why our Midlands spa hotels are situated both in the hustle and bustle of the cities as well as nestled in the countryside, choose the perfect setting for your Midlands spa break.
The magnificent Tortworth Court Hotel is set amongst 30 acres of tranquil grounds, an elegant grade 2 listed Victorian mansion that is set on the edge of the Cotswolds in South Gloucestershire. Alternatively, the sublime spa facilities available at the Lion Quays Resort spa complex in Shropshire will be bound to leave you wanting to expand your Midlands spa break. One night might not be enough to truly take advantage of the quality of spa at this venue, with the outdoor terrace overlooking the canal and the state of the art fitness studio to explore.
Book your Spa Break Midlands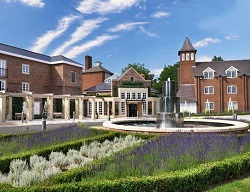 With such a vast array of spa break Midlands venues to choose from, narrow down your selection of spa hotels Midlands using the county categories below. Browse through the hotel descriptions to find that perfect venue for a Midlands spa break, there is bound to be the perfect option for you and your loved ones to enjoy. You can be guaranteed to find a great deal for your spa break Midlands with Spa & Hotel Breaks; we have partnerships with some leading hotels to provide you with some unbeatable offers. Enjoy your Midlands spa break with a price tag you can't complain about, everyone deserves a bit of relaxation and a luxury spa treatment.
We are always available to contact by phone or email, our friendly team are on hand to help you choose or check availability for your preferred spa hotel Midlands. The Spa & Hotel Break team are experts who are always happy to find you the perfect Midlands spa hotel, we always love to see the happy faces of our customers afterwards.