Spa Breaks Warwickshire
A Spa Break in Warwickshire would bring you to a county where country life meets city life with a whole host of things in-between. The home of so many attractions, individual restaurants, bars and cafes it's easy to see why spa breaks in Warwickshire could also provide you with a perfect day out.
No matter what age Warwickshire provides a perfect day or weekend away for all of the Family. From the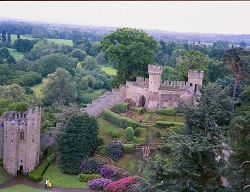 selection of castles, cathedrals, manor houses and historical sites to the theatres, shopping streets, sporting venues and acres and acres of green space to explore. While in the area why not see if there is one of the many festivals or concerts on in the area and take a special memory back home with you.
Located within Warwickshire we have a vast array of spa deals to choose from, from cheaper options to more luxurious options. If you're looking for a hotel with great access to other areas within the county, look no further than the Mercure Brandon Hall, offering superb rates on one and two night spa breaks, conveniently located close to main roads but still set within its own grounds for a peaceful spa break away. If a luxury spa break in Warwickshire is more your thing, you may wish to take a look at the Walton Hall, a stunning building with a great reputation for luxury spa breaks.