Spa Breaks in Warwickshire
Combine countryside with the city for a well needed spa break in Warwickshire, filled with fun things to do for everyone. Being home to so many attractions, restaurants, bars and cafés, it's easy to see why spa breaks in Warwickshire are a popular choice for many, heading back for some relaxation after a busy day of exploring. Once you have refreshed and revitalised, we recommend taking a trip to the impressive selection of castles, cathedrals, manor houses and historical sites the county has on offer, making the most of your spa break in Warwickshire and its beautiful surroundings.
We have a vast array of spa deals to choose from, from cheaper options when you need to get away from the stress of everyday life to more luxurious options for a special treat. Over the years, we have partnered up with some of the most recognised spa hotels all across the county to offer you exclusive discounts that you won't find elsewhere. A spa break in Warwickshire is not only a great opportunity to unwind, but we pride ourselves on unique packages that provide the full experience, creating lifelong memories for you to cherish.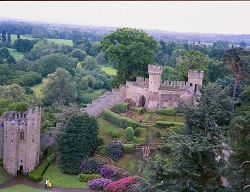 Picking the Perfect Spa Break in Warwickshire
Browse our collection of spa breaks in Warwickshire to find exactly what you've been looking for, with stunning locations set all across the county. Your stay will not only include a comfortable hotel room and access to the facilities, but plenty of extras to make your trip a memorable one. To take the pressure off of the planning, many of our deals include a three course evening meal, a tasty breakfast the next morning and even professional spa treatments so you can get the pampering you deserve.
If you're looking for a hotel with great access to other areas within the county, look no further than the Mercure Brandon Hall, offering superb rates on one and two night spa breaks, conveniently located close to main roads but still set within its own grounds for a peaceful spa break away. If a luxury spa break in Warwickshire is more your thing, you may wish to take a look at the Walton Hall, a stunning building with a great reputation for luxury spa breaks.
Book Your Spa Break in Warwickshire
Once you've chosen from our range of spa breaks in Warwickshire, leave the rest to us. We keep our packages broad so you can find locations, dates and packages that suit you whether you're heading off on a romantic getaway, a fun girl's weekend or on a solo trip for a bit of me-time. If you would like to know more about any of our packages or have any questions, please do not hesitate to get in touch. We will work with you to find the perfect spa break in Warwickshire so you can get ready for your trip with peace of mind that everything is arranged.