Spa Days In Derby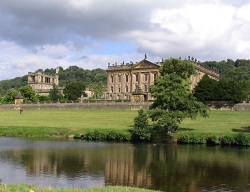 Famed for its great outdoors and the spectacle of the Peak District, the beautiful county of Derbyshire has tons to offer its visitors. If you're visiting this part of the UK, or you're lucky enough to live in the area, then organising a spa day in Derby will make a perfect day's retreat from the business of day-to-day working life.
Derby is a beautiful English city located on the banks of the River Derwent in the scenic county of Derbyshire in the East Midlands. It is the perfect luxury spa escape, boasting a rich history and a vibrant city centre. Take a stroll along the river, marvel at the artworks at Derby Museum and Art Gallery or visit the city's cathedral.
Explore all of this and more when you stay at one of our wonderfully indulgent spa hotels in Derby.
Choosing a Spa Day in Derby:
Organising a spa day in Derby is easy with Spa and Hotel breaks. We have many options for spa deals in a genuinely picturesque county. An unquestionably inspiring range of spa day packages in Derbyshire can be found at the elegant and stylish Yew Lodge Hotel & Spa, the beautiful Risley Hall and the secluded tranquillity at The Owl House Day Spa.
Derbyshire is a county filled with the rural countryside, magnificent walking areas, and a vibrant urban city centre with many shops, restaurants, and urban nightlife. So, it doesn't matter if you're a keen explorer or shopper; there will be plenty for you to do in the area before or after a tranquil spa day. Whether you are looking for a luxury pamper day with accessibility to the city centre or a more extended spa break, Derby has lots of options from spa hotels to a day spa in Derby and we have you covered with our fabulous catalogue of spas in Derby.
Spa Day in Derby: Make the Most of Your Trip with an Overnight Stay!
If you're feeling adventurous, you can choose to combine your spa day in Derby with an overnight stay. The stunning peak district with craggy hills, sweeping dales, and enchanting woodlands are right on the city's doorstep. If you're seeking out a spot of elegance, visit Kedleston Hall, an impressive 18th-century Manor House, or Chatsworth House – the setting for Pride & Prejudice. The latter would be the perfect day of exploration with a loved one as part of a romantic spa break in Derbyshire for two.
Spa Day in Derby with Friends & Family
A spa day in Derby can make the perfect day trip for a group of friends on a hen party - each location is more than happy to cater to your every need and make the day run smoothly and as relaxing as possible for your group. At Spa & Hotel break, we put maximum effort into finding you your perfect spa breaks away from a busy schedule back home.
Book a Spa Day in Derby with Spa & Hotel Break Today
A spa day in Derby is available at most of the venues below, but if you cannot find what you are looking for, please call us on 0800 246 5511. We have other hotels that may offer the leisure break in the East Midlands you've been especially looking for.
Ringwood Hall Hotel and Spa

Chesterfield, Derbyshire

offers from
£79.00pp

Ringwood Hall is a beautiful 19th century manor house within 6 acres of formal award winning gardens, surrounded by 29 acres of parkland. Perfectly located on the doorstep of the Peak District in Derbyshire, providing the ideal location whatever the purpose of your visit. The Ringwood Hall offers wonderful accommodation, spa and beauty treatments, with excellent dining options. Whilst enjoying. . .

View Offer Details