Spa Breaks in Scotland
Immerse yourself in a world of ultimate relaxation with our collection of our spa breaks in Scotland. Unwind in the 19th Century mansion that is Mercure Ardoe House Hotel & Spa amongst some of Aberdeen's greatest views, or treat yourself to fantastic views across Loch Fyne at the aptly named Loch Fyne Hotel & Spa. Whatever you choose, we have a range of offers and deals for the best spa breaks.
City dwellers can shop 'til they drop in the bustling city centres of Edinburgh or Glasgow, then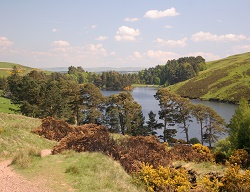 escape back to the comfort and tranquillity of a city break spa. Whether you prefer the bright lights of a city centre, or you're seeking something urban but with breathtaking, idyllic views, our partners cover it all. If you want to enjoy a round of golf on a championship course, for example, the Carnoustie Golf Hotel & Spa or the Golf View Hotel, Nairn are both incredible choices for a luxury break with an active twist – but golf isn't your limit! In fact, Scotland is the perfect place for a wide variety of outdoor activities, a range of sports and hobbies and more, which can all be found and enjoyed within the beautiful country around your spa break location.
We carefully pick all of our spas in Scotland, ensuring that they offer the best quality and excellent value for money. If you'd like to book one of our Scottish packages, you can call us for free on 0800 012 2000, email us using our online enquiry form or use our Live Chat system to check availability.
Relax & Unwind With Spa Breaks In Scotland
For those seeking the epitome of relaxation, Scotland is full of stunning locations which are perfect for a spa break getaway. Not only will you have the opportunity to enjoy a wide range of luxury and cosy spas and hotels, but with compelling views to enjoy between treatments, there's no better way to sit back and relax in style. We have a wide variety of Scottish hotels listed here – Aberdeenshire, Angus, Argyll & Bute, Ayrshire, Edinburgh, Glasgow, Morayshire, Perth & Kinross and Stirling to be precise, meaning you can choose a view and location that suits you and your preferences best.
Our clients are at the heart of what we do and so we work hard to find the best prices and the most unique deals to pass on to each and every one. Whether you're on a lower budget but want to escape for the day, or you're looking to treat yourself to something a little longer and more expensive, you can rest assured that we have hand-picked only the best and most luxurious of spas and hotels available. Our experience within the industry and our partnerships with these leading hotels have helped us gain exclusive access to lower prices and unique deals, and we're passing them on to you.
To take a look at the deals available for a range of different hotels here at Spa And Hotel Break, simply take a look at our list below. If you'd like more information on the packages that we offer or the choice of locations available to you, don't hesitate to get in touch via phone, live chat or even our online enquiry form, today.