Spa Breaks Scotland
A luxury spa weekend Scotland is the ultimate way to unwind and immerse yourself into a world of relaxation. Escape the hustle and bustle of day to day life and enjoy tranquil spa breaks Scotland, whether it's a romantic getaway or a ladies catch up weekend, there's bound to be something for every occasion.
Scotland is the perfect location for a spa break getaway, full of spectacular locations to enjoy during your spa weekend Scotland. At Spa & Hotel Break we offer a range of the best spa breaks at affordable prices, you won't find as many great spa deals anywhere else.
Treat Yourself with Spa Breaks Scotland
A spa weekend Scotland is the ideal location for a relaxing getaway. If you are looking to indulge yourself in the city lights of Edinburgh or Glasgow, shopping till you drop before heading back for a bit of TLC during your spa weekend Scotland, our selection of spa breaks Scotland has the perfect option for you to look forward to. If you would prefer to get away from it all and enjoy a countryside retreat, a scenic spa weekend Scotland is a great place to enjoy the country views. The Carnoustie Golf Hotel & Spa and the Golf View Hotel are idyllic spa weekend Scotland options which combine luxury spa breaks Scotland with a bit of an active twist. Whether you would like to partake in a round of golf on a championship course, or want to enjoy the variety of outdoor activities, sports and hobbies the Scottish countryside has to offer, there's plenty of activities to choose from and enjoy on your spa weekend Scotland.
We offer a wide range of luxurious and cosy hotels, guaranteed to give you a relaxing night's rest before a day of expert spa treatments, there is no better way to sit back and enjoy spa breaks Scotland. Choose the perfect location for your spa weekend Scotland, we have a variety of Scottish spa hotels across Aberdeenshire, Angus, Argyll & Bute, Ayrshire, Edinburgh, Glasgow, Morayshire, Perth & Kinross and Stirling. Our extensive range of spa breaks Scotland means you can choose a view and location that best suits you and your preferences.
Choosing the Perfect Spa Weekend Scotland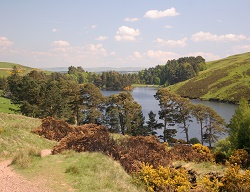 Whether you are looking to unwind amongst some of Aberdeen's greatest views in the 19th century mansion of Mercure Ardoe House Hotel & Spa, or enjoy the beautiful views of Loch Fyne at the Loch Fyne Hotel & Spa, we offer a range of offers and deals for luxury spa breaks Scotland.
We carefully select all of our spas breaks Scotland, ensuring that they offer the best quality and excellent value for money. Customers are at the heart of what we do so we work hard to find the best prices and the most unique deals for you and your loved ones to enjoy. From day escapes on a lower budget to longer and more luxurious spa breaks Scotland for special occasions, we can guarantee that we have hand-picked only the best of spa breaks Scotland. Our wealth of experience plus the partnerships we have built with leading hotels allows us to gain exclusive access to deals that seem almost too good to be true.
Take a look through the range of different spa breaks Scotland offered here at Spa & Hotel Break to find the perfect spa weekend Scotland to look forward to. If you'd like to book one of our spa breaks Scotland, you can call us for free on 0800 012 2000, email us using our online enquiry form or use our Live Chat system to check availability. We're always on hand to speak with you if you would like additional information on our packages so don't hesitate to get in touch.