Spa Days Staffordshire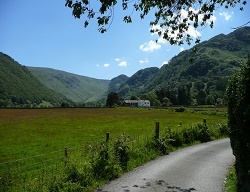 If you're feeling a bit tense and stressed by the fast-paced lifestyle you lead, our spa days in Staffordshire will soothe away tension and help you relax in no time. Staffordshire plays host to many great locations that are perfect for a mini spa break or weekend getaway. With venues across the region all waiting to welcome you and your entourage, you can find a great price through us. Browse the full Staffordshire spa days and breaks we have below and enquire online today, or request a callback, to book. With fantastic deals per person that you won't find anywhere else, choose Staffordshire spa hotels that will provide the R&R you're seeking.
Luxury Spa Days in Staffordshire
Staffordshire is the perfect location for relaxing spa breaks when you need to get away for at least a day or so and enjoy blissful surroundings. The vast array of countryside surrounding the region gives a calm feel to any hotel you choose, which adds to the relaxing environment within a spa setting. Additional treatments can be added to your package should you wish to be pampered that little bit extra too, so we can help you arrange the perfect trip. From full body massages and manicures to facials and exfoliation treatments, you'll be spoilt for choice with the treatments on offer.
Locations such as the stunning Moddershall Oaks Country Spa Retreat will provide everything you need when relaxation is a priority. From just £55.00pp, this wonderful break near Stone in Staffordshire is the ideal location for couples as well as small groups looking for an escape from the busy towns and cities. Spa days in locations like this are perfect for those wishing to meet up for a day with family or friends, or needing something to do during the day whilst on a hen break. It can be the perfect way to recover from a busy week or heavy night before. With Stoke-on-Trent nearby to provide all local amenities and easy access for travel, at Spa and Hotel Break, we will do our very best to find you the perfect spa days Staffordshire has to offer.
Book Staffordshire Spa Days & Breaks Today
With Staffordshire home to many superb spa days in the West Midlands, you won't want to miss out on a visit to this region. Stunning countryside and landscape await those who have never had the pleasure of visiting this part of the UK, whilst locals can also enjoy the fantastic spa deals we have. It couldn't be simpler to book, so once you have chosen the break you want to enjoy, all you have to do is send us an online enquiry, or call us on 0800 2465511. We can then quickly check the dates you want to book against availability with the venue, and confirm your booking fast.
If you have any questions about any of the spa days and breaks you see, we'll be happy to discuss them further. Not only can we help you book your own perfect spa days in Staffordshire, but we also provide gift vouchers so you can treat a loved one. We have many locations across the UK you can choose from, so be sure to browse your available options and find an affordable spa break with us.
Moddershall Oaks

Nr Stone, Staffordshire

offers from
£130.00pp

The warmest of welcomes awaits you at the Moddershall Oaks as you begin your spa journey. Moddershall Oaks is a luxury country spa retreat in Staffordshire offering glorious overnight spa breaks and spa days with mouth-watering gourmet lakeside dining. The quality of service whilst set in an intimate environment lets you forget the outside world. Moddershall Oaks is about pampering. . .

View Offer Details