Spa Breaks in London
The hustle and bustle of city life may not lend itself to the typical image of a relaxing getaway, but with the right location, immersing yourself into a sightseeing spa getaway is as simple as picking out your hotel. Here at Spa and Hotel Break, we only list the best spa breaks London has to offer, giving you easy access to a wide variety of different hotels and spas with an equally as wide range of prices to suit every budget. Sit back and put the stress of organising a relaxing holiday behind you. With a city break, you get all the benefits of a soothing spa escape with the added bonus of having everything right there at your doorstep.
Spend the day exploring the energetic city, before takind a gentle stroll along the Thames back towards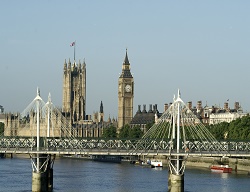 your hotel. From here, you can indulge in a range of different treatments which often come as standard with our spa breaks London, so you can truly treat yourself to a spot of luxury after exploring everything that London has to offer during the day.
Trafalgar Square, Buckingham Palace, the National History Museum and more – London is packed full of exciting things to see and do and with restaurants dotted on every corner offering the very best of the world's varied cuisines, you can even treat yourself to a spot of lunch or dinner. Alternatively, most of the hotels that we list here come with incredible food packages with delicious, mouth-watering menus to suit every taste.
If a luxury break in the centre of London is something that you'd like to enjoy, why not book our spa breaks London hotels, today?
Explore The Big City With Spa Breaks London
Our collection of spa breaks London packages are perfect for city breakers seeking something unique for their next trip. If you need a holiday dedicated entirely to your relaxation and recovery, but want to step out into a bustling city for something invigorating to do throughout the day, our collection of breaks promise exactly that. Here at Spa & Hotel Break, we have decades of experience and a variety of trusted partners who we work closely with to bring you the best deals, discounts and standard packages that we can. Why not take a look at the hotels we have on offer and pick the right deal for you?
Whether you're just looking for a spa day for a quick escape from everyday life, or you're eager to get out and immerse in a longer spa breaks London experience, we can cater for all. What's more, with key London locations, you can enjoy the likes of the West End, a variety of enriching museums and even take a gentle stroll around Hyde Park for the perfect addition to your break.
Our collection of spa breaks London allows you to truly enjoy the relaxation of a spa escape with the excitement of a city break. Take a look at the hotels we have on offer below, or get in touch with a member of our team for more information, today.
No deals have been found!
It might be worth trying to broaden your search parameters or contact us directly on 0800 2465511