Spa Days in Northumberland
Escape to the tranquillity of Northumberland and indulge in a rejuvenating spa break. With breath-taking scenery, a rich history and charming towns, spa days in Northumberland are the perfect choice for those seeking to unwind and pamper themselves.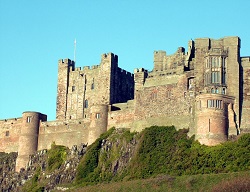 Taking a spa day in Northumberland is not only a luxurious treat, but it is also important for your well-being. Spa treatments can help to reduce stress levels, relieve muscle tension and improve sleep quality. By taking a break from the hustle and bustle of daily life and prioritising your self-care, you can return home feeling rejuvenated and refreshed.
Places to Visit in Northumberland
Northumberland boasts a range of natural wonders, including the picturesque coastline, rolling hills and vast countryside. These natural treasures create the perfect backdrop for a relaxing spa getaway. Take a leisurely stroll along the sandy beaches, explore the stunning Northumberland National Park, or simply unwind in the tranquil surroundings of your chosen spa.
During your spa days in Northumberland, there are plenty of other places to visit if you decide to leave the spa. History buffs can explore the famous Hadrian's Wall, a UNESCO World Heritage site, and learn about the fascinating history of the Roman Empire. The charming market town of Alnwick is also a must-visit, with its stunning castle and beautiful gardens. For those seeking to reconnect with nature, Northumberland has an abundance of wildlife to admire, including red squirrels, otters and birds of prey.
If you're looking for spa days North East but want to visit somewhere other than Northumberland, discover our other North East locations here on our website. We have offers from spas in County Durham, Yorkshire, and Tyne and Wear!
Why Take a Spa Day in Northumberland With Us?
At Spa and Hotel Break, we make booking your spa days in Northumberland easy and stress-free. Our expert team have handpicked the best spa hotels in Northumberland, ensuring that you will enjoy the highest quality treatments and facilities. Whether you are looking for a romantic weekend away or a group spa break with friends, we have a range of packages to suit your needs.
When you book with us, you can rest assured that you are getting the best deal possible. We regularly update our website with exclusive offers and discounts, meaning that you can save money while indulging in some much-needed pampering. Our dedicated customer service team are also on hand to help you with any queries or concerns, ensuring that your spa break runs smoothly from start to finish.
Northumberland is the perfect destination for a spa break, offering a mix of natural beauty, history, and relaxation. By booking with us here at Spa and Hotel Break, you can experience the ultimate in luxury and relaxation while exploring all that Northumberland has to offer. Take the first step towards your rejuvenating spa break today and let us help you create a truly unforgettable experience. Contact us today or book your spa day in Northumberland on this page.
QHotel Slaley Hall

Hexham, Northumberland

offers from
£79.00pp

Slaley Hall is an Edwardian mansion surrounded by over 1,000 acres of gorgeous Northumberland countryside, an ideal location for a spa break away from the stresses of normal life. Enjoy a one or two night spa break at this magnificent venue and you will be sure to come away feeling re-energised and completely relaxed. Spend time relaxing in the fully. . .

View Offer Details