Golf and Spa Breaks
At Spa and Hotel Break there are a number of spa hotels where we can offer combination golf spa days and golfspa breaks UK. Each package varies with some 'ready-made' golf and spa breaks, or you can simply add on a round of golf or two. Some golf and spa breaks offer a treatment for one person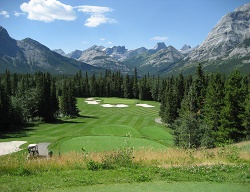 and a round of golf for another so if you are away with another couple, we tend to find this is ideal as generally the male side of the party will take up the golf whilst the females enjoy their treatments. That's not to say it can't be the other way round.
Our golfing venues are located throughout the UK, with spa breaks Scotland, Wales and England available and normally have a golf course on site or a golf course very close to the hotel for which the hotel receives discounted rates. Any keen golfer will recognise quite a few of the venues throughout our website, many of which have been used for championship events. The beautiful Carnoustie has hosted the Open Championship on many occasions and, more recently, the Celtic Manor hosted the brilliant Ryder Cup in 2010. Enjoy a round of golf on such courses and follow in your heroes footsteps when you sink that winning put. Whatever your preference we can help you book your next golf and spa break getaway.
Golf and Spa Breaks FAQs
What is included on a golf and spa break?
There are many different packages that we offer. You can choose either one night's accommodation or even two depending on what suits you. Many packages include bed and breakfast, a round of golf and a spa treatment. Some packages even include dinner. If you would like to add on any extras during your stay, you're very welcome to speak with one of our team upon booking. If you are looking for a long weekend escape, then a 1–2-night golf and spa breakwould be perfect.
I'm not a golfer, but can I buy a gold and spa break as a voucher for someone else?
Each of our spa break voucher options gives maximum flexibility for all the services. Our gift vouchers and gift cardscan be used for any of the venues on our website and are valid for 12 months from the date of purchase. As a company, we pride ourselves on offering a wide range of golf and spa break vouchers with a wide variety of prices. This allows your loved ones to spend a well needed time of rest and relaxation in one of our beautiful chosen locations.
You have the choice of a monetary gift i.e. £25, £50 etc, or you can buy a specific hotel break as a gift. This is perfect for an anniversary, birthday or even as a Christmas gift, which can be redeemed within 12 months of receiving it. Many of our customers will enjoy a day on the course while the other relaxes in the spa. Most of the packages include dinner as well to complete a great weekend away.
How do I book a golf and spa break?
Once you've found your dream spa, let us walk you through how to book. We want your relaxation to start right here at the point of booking, so we've made the process as simple as possible for you.
Are you allowed to talk while using the spa facilities?
The main spa facilities of any venue aim to be tranquil and restful places – a retreat for most. Therefore, it is respectable to use very quiet voices. However, you don't have to be completely silent - part of enjoying the experience is often sharing it with friends, especially on golf and spa breaks. Just make sure you consider the comfort of other guests who have gone there to relax as well. For example, making a lot of noise and splashing loudly in the pool won't be welcomed. Some spas have designated quiet areas too.
I'd like to arrange a gold and spa break with friends, do you have discounts, vouchers, or group booking available?
We take pride in offering you the best deal for your spa break. There are many different discount options available, including group booking deals. Look for the best option for you in our special offers options.