Sunday Night Hotel Deals
When it comes to unwinding and recharging after a long and stressful week, few things can compare to the serenity of a spa and hotel getaway. It's the perfect opportunity to escape the daily grind and immerse yourself in serenity. And what better day to indulge in such luxury than on a Sunday? Sunday night hotel deals have become increasingly popular, and for good reason.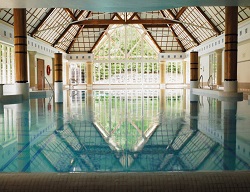 Best Things About Sunday Hotel Deals
Sunday is often seen as the ideal day to relax and recharge. After a hectic workweek, people yearn for a serene and soothing environment to unwind. Sunday night hotel deals offer just that, serving as a wonderful way to cap off the weekend.
One of the best things about Sunday hotel deals is the opportunity to extend your weekend. Rather than dreading the impending Monday, you can prolong the feeling of leisure and freedom for a little while longer. Imagine waking up in a luxurious hotel room, knowing that you have a full day of pampering and relaxation ahead.
These spa deals often include spa treatments that can help you shed the stress accumulated over the week. Whether it's a soothing massage, a facial, or a dip in a heated pool, the spa experience on a Sunday is a ticket to tranquillity. You can let go of all your worries, leave your responsibilities behind, and simply focus on yourself.
Additionally, Sunday nights are typically quieter at spa hotels, allowing for a more peaceful and intimate experience. You can savour the serene atmosphere without the hustle and bustle of weekend crowds. It's the perfect time to unwind, enjoy some alone time, or bond with a loved one in a tranquil setting.
Sunday Spa Days Across the UK
Spa and Hotel Breaks is your gateway to a world of Sunday spa breaks across the UK. They understand that people have different preferences when it comes to destinations and accommodations. Whether you're seeking a cosy countryside retreat, a coastal haven, or an urban oasis, Spa and Hotel Breaks has you covered.
Our collection of handpicked hotels offers a diverse range of experiences to suit every taste. From historic manor houses with stunning gardens to contemporary city escapes with vibrant nightlife, you can find the perfect setting for your Sunday spa day.
These Sunday spa breaks are designed to cater to your individual needs. You can choose from a variety of packages that include different treatments, dining options, and additional amenities. With Spa and Hotel Breaks, you have the flexibility to create a spa getaway that matches your desires.
How to Book Sunday Spa Days
Booking your dream Sunday spa days with Spa and Hotel Breaks is a straightforward process. Here's how to get started:
Select Your Preferred Sunday Spa Location - Explore our offers below and browse through the available destinations. Choose the one that captures your imagination and fits your relaxation goals.
Read About Package Details - Click on your chosen location to view the package details. This includes information about the hotel, spa facilities, included treatments, and any special offers.
Call to Book - Once you've found the perfect Sunday spa package, simply call Spa and Hotel Breaks to make your reservation. Our friendly and knowledgeable staff will assist you in securing your spot for a rejuvenating Sunday escape.
Sunday night spa and hotel deals are a delightful way to treat yourself to a luxurious spa and hotel escape, allowing you to recharge and start the new week with a fresh perspective. Spa and Hotel Breaks offers a wide range of options across the UK to cater to your individual preferences.
Book your Sunday night spa break today!
Sunday Spa Hotel FAQs
What is the best time to book a Sunday spa day?
Sunday spa days are in high demand, so it's advisable to book in advance, preferably a few weeks ahead, to secure your preferred date and time.
What should I bring for a Sunday spa day?
Typically, you'll need swimwear, comfortable clothing, and any personal toiletries you prefer. Most spa facilities provide robes, towels, and slippers. Check with us when you call for more details!
Are Sunday spa deals suitable for solo travellers?
Absolutely! Sunday spa days are ideal for solo travellers looking for some self-care and relaxation. You can enjoy a little peace and quiet in your own way.
Can I customise my Sunday spa package?
Yes, many spa hotels offer customisable packages. You can often add extra treatments or dining options to tailor your experience to your preferences.