Spa Days Pembrokeshire
Pembrokeshire, with its gorgeous coastline, is famous for its amazing Coastal National Park - with is abundance of wildlife, water sports and its many footpaths to soak up the scenery,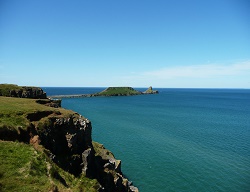 you will be hard pressed to find a more picturesque location to relax anywhere in Wales. With so much to see and do it make sense to make the most of your visit with one of our spa days at The Lamphey Court Hotel and Spa at Tenby. The hotel is set in its own beautiful grounds and the spa is blessed with some of the best facilities on offer. This includes a swimming pool, fully equipped gym, spa bath, sauna, and treatment rooms for massage, reflexology, hot rock therapy, hair and beauty treatment and much more. The spa treatments on offer are of the highest standard and administered by the fully qualified and caring therapists that make spa days at this hotel just sublime. The perfect place for a spa day package deal in Pembrokeshire.
Pembrokeshire is renowned for the hospitality it offers to visitors and this hotel is no exception, with every member of staff doing their upmost to ensure your spa day is one to remember for all the right reasons. Don't leave it until the last minute, please call us now to check availability on 0800 0122000 for any of our spa days.