Spa Days Denbighshire
Denbighshire is a beautiful county in Wales and has the distinction of being the oldest known inhabited part of Wales - being populated by the Neanderthals over 200,000 years ago. It's an area full of history and it is host to five of the most amazing castles in Wales - Denbigh Castle, Rhuddlan Castle, Castell Dinas Bran,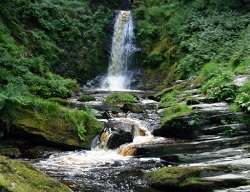 Bodelwyddan Castle and one of our spa day venues the famous Ruthin Castle. This most amazing of venues is located a mere 20 miles from the popular town of Chester and is surrounded by its own tranquil woodlands and moat. This historic spa day venue dates back to the time of King Arthur with such notable residents including King Edward I, Henry VIII and Elizabeth I. What an amazing setting for spa days in Denbighshire!
Behind the castle walls lies an area of complete tranquillity and peace in the spa. You wouldn't guess that such amazing facilities - including Kelo Wood Sauna, Relaxation Suite, Outdoor Sauna Tent, Fitness Classes, Aromatherapy Steam room, Three Wooden Dutch Hot Tubs, Plunge Pools and a fully equipped gym - were available to you throughout your spa day. The fully qualified therapists will soothe you with amazing spa treatments that will leave you feeling relaxed in both body and soul. Spa days in Wales have never been more relaxing. Please call us on 0800 012 2000 to check availability. What an amazing gift ideas for family and friends.