Spa Breaks Pembrokeshire
Recognised across the world for its beautiful coastal backdrop, spa breaks in Pembrokeshire could be your perfect holiday destination. From the array of wildlife at every turn, to the towering cliffs that are backdrop to the stunning sandy beaches. When you've finished exploring, take in your final deep breath of fresh ocean air before you head back to your luxury spa accommodation in Pembrokeshire for some down time.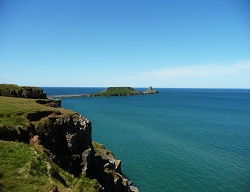 Pembrokeshires best kept secret is the fantastic country house that is Lamphey Court Hotel Spa. Located in the town of Tenby and set in its own grounds, this wonderful venue offers you peace and relaxation in luxury accommodation and a superb spa. The hotel prides its self on the food they serve. Each dish is from locally sourced food from in the immediate area. Why not try sound fresh sea food that has been caught that very morning by the local fishermen.
Pembrokeshire is the perfect place for anyone interested in the outdoors. With so much to get involved with it's hard to get list everything. Whilst on your spa break why not take in a surfing lesson and go home with a new skill to tell your friends about. Rent a bicycle and explore the forests and countryside. If you need a great family day out then enjoy a morning Kayaking, located in Fishguard. Kayak-King Tours offer tourists the perfect opportunity to discover the Pembrokeshire National Park. If you prefer spa break with a slower pace, then the area has an abundance of golf courses. A little online research, or even just ask at the hotel, will find you the perfect course. It doesn't matter what you feel like doing during your spa deals, this county has the attractions to please all new comers.