Spa Breaks Denbighshire
A spa retreat to Denbighshire would bring you to the stunning Ruthin Castle. The castle has been used as a home for many king as queens throughout the centuries, most notably the legendary King Arthur for whom it was originally built for. This truly romantic destination is the perfect place to start a wonderful weekend away with a loved one. The spa at the Ruthin castle has been integrated into the beautiful surroundings at the hotel, featuring an outdoor sauna and hot tub and refreshing spring showers.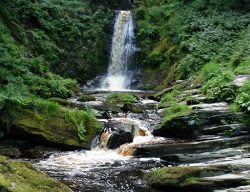 Whilst on spa breaks in Denbighshire you will be overwhelmed with the amount of things to do and see in such a compact area of the country. The bustling market towns offer all guests plenty to do, from working your way around the individual stores on each market, to sitting and enjoy a locally brewed beer or ale in a country tavern whilst enjoying some local produced Welsh food. Denbighshire also has plenty to do for the family; from water parks and craft centres to guided tours and walks around the castles and surrounding areas.
A spa break in Denbighshire would also bring you to a county with coastal resorts from as north as Rhyl and Prestatyn, down through the Vale of Clwyd to the hugely popular town of Llangollen. The coastal areas give panoramic views of this beautiful county and country as a whole. Make sure to take your walking boots with you on your break away and enjoy all that this beautiful county has to offer.