It's no secret that spending time in the serene surroundings on a spa break or spa weekend can do wonders for your mind – as well as your health. The multitude of relaxing, rejuvenating treatments available at a spa help you to look, and feel, your best by reducing stress levels and cleansing the body of toxins that have built up over time.
Relaxing spa days provide the perfect opportunity to pamper yourself with some much-needed 'me' time, to chill out, relax, recharge, reflect, detox and re-energise.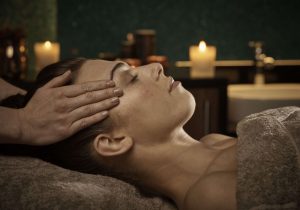 Whether you're a couple looking for a romantic spa weekend, a group of friends planning a group spa package, or a money-conscious spa-goer looking for cheap spa deals or last minute spa breaks, one of the most important things to consider before booking your spa hotel break is your treatment – and a massage is a great place to start.
Many spa hotels offer a great mix of massages to choose from, all delivered in calm and relaxing surroundings by expert professionals. From easing muscular aches and pains to releasing stress and tension, there are many health benefits of getting a spa massage during your spa weekend getaway.
Below, we've compiled a handy guide explaining all the reasons why you should book a massage on your next UK spa break.
A sense of relaxation
We tend to think of massage as a way to pamper ourselves, but it's much more than a momentary feel-good treatment. In fact, a massage is one of the easiest ways to relax, especially when it is part of your regular wellness routine. The benefits of a spa massage will be felt long after your spa break ends. Even the surroundings of the massage therapy room – with soft lighting, fragrant scents and calm music – will help you to disengage from the 'real world' and escape into a cocoon of relaxation.
Muscular benefits
Stress can cause muscles throughout the body to tense up, creating that 'knotted' feeling typically found in the back, neck and shoulders. Massage can help relax tight and painful muscles and improve the range of motion in your joints so they have greater freedom and flexibility. During a massage, your spa therapist will use various techniques to rub, stretch or apply pressure to the muscles to help them return to a relaxed state, which in turn will reduce your aches and pains.
Immune and digestive system benefits
When dealing with stress, the body conserves energy by suppressing the digestive and immune systems. This may lead to decreased immune system activity and an increased risk of catching colds, flu and other illnesses. Problems with digestion may also accompany stress. When carried out by expert spa therapists, massage can help improve immune system activity and play a role in restoring normal digestive system function.
Improved circulation
Massages have been proven to boost blood circulation. Poor circulation can lead to cold hands and feet, fatigue and aching muscles, whilst good circulation provides tensed or damaged muscles with the oxygen-rich blood they need to heal. The pressure placed on muscles during a massage aids circulation by moving blood through the congested areas, resulting in lower blood pressure and improved body function.
Improved sleep
Quality of sleep is important for all health concerns, from how we feel to how much we eat and how we deal with stress – but in today's digitally-driven world we rarely feel rested. A relaxing spa massage can directly influence the body's production of serotonin and the creation of melatonin, both of which play a vital role in sleep patterns. While improving the quality of your sleep, a one-hour massage can provide the body with benefits that are equivalent to a rejuvenating power nap.
Reduced headaches
When performed on a regular basis, massages reduce the chance of migraines and tension headaches significantly by relaxing muscle spasms and trigger points. A spa massage targeting specific stress points can also help to ease the pressure brought on during a migraine or tension-related headache. By focusing on the neck, shoulders and head, your massage therapist will be able to gently but effectively target the areas causing discomfort.
Improved posture
If you're an office worker, or someone who spends much of their day sitting down, you'll be familiar with how quickly your posture can become affected. Poor posture is a leading cause of back pain and as a result, can lead to sore, aching muscles. Massage therapy can help position the body back into proper alignment, so you have a healthier posture that is less likely to cause discomfort.
Tailored treatment
Massage therapy encompasses many techniques which help a multitude of ailments. The main forms of massage that are likely available at a spa hotel include relaxation, Swedish, deep tissue and reflexology massages. Some forms of massage use luxurious oils from top spa brands, and others use warm stones to release tension and promote relaxation. Whatever you choose, you'll be able to discuss your needs with your therapist beforehand, so the treatment will be tailored to your needs.
Part of a Package
If you've booked a spa and hotel break spa weekend package, you may already have a spa treatment included – and if it's a 60-minute treatment, a massage is a great option. So not only will you enjoy a relaxing treatment, but you'll also have the perfect opportunity to take a dip in the pool and make full use of the sauna, steam room and Jacuzzi for a great, all-round well-being experience. Just make sure you rinse off chlorine, perspiration or environmental pollutants in the shower before your treatment or therapy, because you don't want all that to be rubbed into your skin. 
What you can expect during a massage
Before a spa massage, your therapist will ask you to complete a questionnaire highlighting any health concerns. The type of massage will effect whether you need to remove any items of clothing – but rest assured, you will always be made to feel comfortable and dignified. If it's a back massage, your therapist will likely ask you to lie on a table and cover yourself with a sheet. You can also have massages – such as a foot massage, for example – while sitting in a chair, fully clothed. Your massage therapist should perform an evaluation through touch to locate painful or tense areas and to determine how much pressure to apply.
Depending on preference, they may use oil or lotion to reduce friction on your skin. Tell your massage therapist if you might be allergic to any ingredients.
No matter what kind of massage you choose, you should feel calm and relaxed during and after your massage.
Afterwards
The benefits of a spa massage can last for days. But to ensure you feel the benefits for as long as possible, try not to plan any hectic activity immediately afterwards. Some spa hotels will give you the option of having a lie-down or nap afterwards – sometimes with a warm drink. Many spas offer relaxation areas where you can rest in quiet surroundings. It's probably not the best idea to go straight back to work if you are feeling so relaxed you can hardly move! So it could be an even better reason to extend your stay and book an overnight spa break at www.spaandhotelbreak.co.uk.
Precautions
Before any massage treatment, avoid large meals or alcohol. It's also a good idea to drink plenty of water, which will help to flush the toxins out of your body.
Give yourself plenty of time either side of the massage, so that you don't feel rushed. You should always tell your therapist in advance if you are pregnant, have any medical conditions or are receiving any treatment or medication, have recently had an injury or operation, are allergic to anything, have any broken skin or sores, as this may affect the kind of oil and treatment you receive.
So next time you book a UK spa break, remind yourself of the many health benefits and book yourself a relaxing massage.
Remember, if you have any questions about whether a massage would be right for you, ask to speak to a massage therapist before you make your appointment at your chosen spa.