Gone are the days when all hen parties involved L plates, feather boas and a night on the town. Sophisticated group spa breaks are becoming more and more popular as a hen party option, and it's easy to see why.
There are plenty of reasons to book a spa break for your hen party: they are refined yet fun, relaxing yet pampering and offer the perfect pre-wedding experience. Relaxing in the sumptuous surroundings of a spa is a foolproof way to please all your guests and provides a great opportunity to spend quality time with friends and family before your big day.
Hens can choose a spa day for a tranquil and rejuvenating experience, or go all out and book an overnight spa break where you can stay the night, enjoying cocktails into the evening, a delicious three-course meal and breakfast together the following morning.
We've put together 11 top reasons why you should book a spa break for your hen party…
It's a perfect escape from wedding planning
Planning a wedding can be a stressful experience and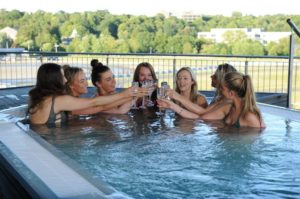 if the wedding day is only a few weeks away, you might be finding it difficult to stay calm and relaxed. Whether you're the bride-to-be, the mother of the bride or a member of the bridal party, spa breaks offer the perfect chance to enjoy a day of rest and relaxation before the special event. Not only will you have the use of quality leisure facilities, but you will also be able to indulge in treatments or, if you fancy it, a fitness class to ensure you are feeling your very best.
You can go at any time of year
A spa day or spa break be enjoyed all year round and in any conditions, so you won't have to worry about planning and preparing weather-appropriate activities. For a summer hen party, consider booking a spa hotel with gorgeous gardens and perhaps an outdoor hot tub; in winter, a large spa with numerous, heated pools and therapy suites – such as Nordic Heat and Ice Suites – will provide the perfect escape from the cold outdoors.
Pre-wedding pampering
If you were already planning on booking some beauty treatments before your special day, then a spa break offers a great opportunity to squeeze in some additional pampering. Feel the wedding stress melt away with a deep tissue massage followed by a dip in the Jacuzzi, then spend the day chatting and reminiscing over a bottle of wine with your guests. Popular pre-wedding beauty treatments include a variety of massages – face, neck, back or full body – and facials to promote glowing skin.
Spend quality time with friends and family
If you only want your nearest and dearest around you, then a spa hen party is the perfect way to enjoy special time together before you tie the knot. Group spa breaks are suitable for all ages, so no one will be left out, and they're a great way for your bridal party to bond if everyone hasn't met yet.
Spa breaks are great for food-lovers
At many spa hotels, you can pamper your bridal party with a luxurious one-night or two-night bed and breakfast experience that offers an evening meal along with a spa treatment and breakfast the following morning. Staying overnight will make your break feel extra special and booking the break as a package can save a lot on the planning and the costs of your hen party, leaving you free to concentrate on bigger things – like the wedding itself.
There are options for busy hens
You might be finding it difficult to pinpoint a date when all of your hens will be free. An afternoon tea and spa package is the perfect solution for those with children or other responsibilities that make it difficult to get away for a full night or weekend spa break. Treat yourselves to a hot stone massage and a stress-reducing body wrap before enjoying tea, cakes and freshly-made sandwiches in luxury robes. Some spas even offer relaxing twilight experiences. Enjoying the spa's facilities by day might seem great enough, but taking a dip in the pool after-dark will seem even more magical.
You can have group treatments
Many UK spa hotels offer group spa packages and most have facilities for couple's massages, so you and your maid of honour can enjoy a treatment together. Or perhaps you'd like to spend some precious time with your mum before your big day? The great thing about group spa breaks is that they're suitable for all – so whether your guests would like an invigorating body treatment or a relaxing manicure and pedicure, several of your guests can be pampered and bond at the same time. 
Spa breaks suit a range of budgets
Some bridesmaids worry out about having to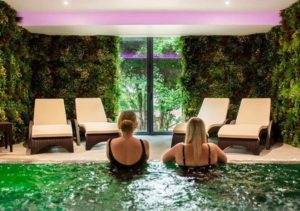 spend a lot of money on the hen party. Unlike jetting abroad for a long weekend, a UK spa break or group spa day can be incredibly cost-effective, especially if you search for cheap spa days and last minute spa deals. Just remember, if you're in a group of more than six guests, it's always recommended to book as far in advance as possible to guarantee availability.
You can still party if you want to
A spa hen party can be as relaxing or energetic as you want it to be. If you're not completely sold on the idea of a fully relaxing spa experience, you can have the best of both worlds by enjoying the sophisticated spa hotel facilities by day and the nearby nightlife after dark. Many of our city spas are conveniently located near fantastic bars and restaurants so you can treat yourselves to a massage or facial before a night out on the town. You could even combine your break with the chance to explore the local area – think Harrogate, Cambridge or Bath.
You'll return feeling relaxed and rejuvenated
Of course, the most important part of any hen party is to have fun and reminisce over all the good times you've had together. A UK spa break will give you chance to unwind and have fun before your big day, and you'll all have yet another great memory to look back upon.