With endless products on the market nowadays, it can be tricky to understand how to make your skin glow whilst awaiting your spa breaks and without the need for investing into pricey creams which are not even guaranteed to give you desirable results. With the festive season approaching, everyone is after that natural face glow, eradicating the winter dull skin we can't seem to shift. Here are our top tips on how to make your skin glow naturally without the need for a cabinet full of skincare.
Hydration is Key
It may seem like an obvious one, but so many of us are guilty of forgetting to stay on top of our water consumption. It can be an easy thing to overlook, but proper hydration works wonders for both dull skin and our physical health. Instead of trialling those expensive skincare brands, water helps to give you naturally clear skin and a radiant face glow, reducing the look of fine lines and wrinkles. Why not add natural flavourings such as blueberries or aloe vera to your water to really flush out those antioxidants and leave you feeling great from the inside out.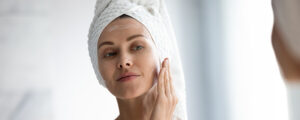 The Power of Vitamin C
Vitamin C has been a long loved favourite for boosting immunity and absorption of iron, as well as a whole heap more benefits for the body. More recently, the effects of vitamin C have become popular for the face, with those with tired dull skin looking for ideas on how to make your skin glow. Vitamin C is another great natural way to get the face glow you've been dreaming of as it helps to fight against redness and inflammation. Many fruits are high in vitamin C, such as oranges, other citrus fruits, cantaloupe and kiwi, so enjoy your 5-a-day whilst achieving that natural summer face glow.
Buff Away Dead Skin Cells
Getting into the habit of regularly exfoliating your skin is a great way of eradicating dull skin if you're looking into how to make your skin glow. The small grains will rub away any dirt or impurities that have gathered on your skin over the day to maintain a healthy face glow. But make sure to not use too much force when exfoliating as you do not want to remove the skins natural oils or cause irritation your skin.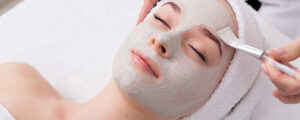 Treat Yourself to a Facial
The post-facial feeling is a tough one to recreate, the illuminating and hydrating power of a facial makes dull skin a thing of the past. With the professional techniques of therapists knowing just how to make your skin glow and have a new lease of life, treat yourself to spa breaks Scotland to unwind in style. As well as improving dull skin, a facial is great for releasing stress, giving a thorough deep clean, slowing down the ageing process and detoxing your skin for a youthful face glow. We recommend heading for a spa day for a facial treatment around once a month as this is how long the natural skin cycle takes to replenish all of your skin cells, find great spa deals here.