If you haven't already then you should add a spa break, or maybe two, to your 'to do' list in 2019. Situated up and down England, and across Scotland and Wales, you can find luxurious spa breaks that enable you to fully relax and unwind in complete tranquillity.
However, with all these destinations available, it can be incredibly difficult to choose a location for your spa deals. Fortunately, we have compiled a list of our top 5 spa break locations for 2019, so all you have to do is pack your bag and get ready to destress.
#1 Edinburgh
Scotland has recently become a popular destination for couples, as well as being a perfect location for a spa break Scotland. With there being so many beautiful monuments to see during your treatments, Edinburgh allows you to enjoy a weekend away, without any pressure. Additionally, if you fancy a bite to eat in the evening there are a multitude of restaurants and bars not far from the spas and hotels.
The Carlton Hotel & Spa has a variety of packages available that suit all budgets and is perfectly situated in the city centre, walking distance from any daily activities you want to fit in between treatments.
#2 Cornwall
When you think of a relaxing location in the UK, Cornwall will probably be at the top of your list. Whether you want time away with family, friends or even your other half, Cornwall ticks every box, due to the vast number of beaches and things to do there.
Part of relaxing is having beautiful weather to bask in, and Cornwall defiantly provides that, despite it being part of the UK! So, when you're not having a pedicure or sitting in the sauna, you can take to one of the long stretches of sand and embrace the breath-taking views that the beaches of Cornwall have to offer.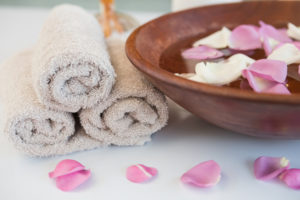 If Newquay is the spot where you want to put your feet up, The Bedruthan Hotel & Spa is positioned overlooking the sea. What better way to relax than with the sound of waves rolling back and forth? 
#3 Gloucestershire
Home to acres of countryside, if you want to take a break from your busy lifestyle then Gloucestershire should be at the top of your list. The huge choice of beautiful spa and hotels that are available will take your breath away and not impact your bank account much either! Each spa and hotel provides something unique and the majority have a swimming pool for you to take a dip in, so you can truly take time out to relax.
#4 Wales
Over the border from England you will find Wales. Well-known for medieval architecture and stunning views, if you want to soak up the fresh air of the countryside, this country is perfect for you. A spa break holiday here will be one to remember for years to come and will not disappoint you.
Whether you want a facial or to release some stress, there are plenty of hotels and spas that cater to the treatment you desire.
#5 Cumbria
Located in the North-West of England, a weekend away here will give you the opportunity to climb one of the biggest mountains- if that helps you to de-stress! Alternatively, if you want to be by the soothing sound of a flowing river, the 4-star Whitewater Hotel and Spa will suit you. Alternatively, if you prefer a hotel with a more modern twist, Appleby Manor Country House Hotel sits at the edge of the Lake District and is sure to blow you away with its surroundings.
Hopefully, these top 5 spa and hotel break locations have given you some ideas for your weekend or night trip away in 2019. Make the most of the relaxing treatments and packages available and leave all your stress and worries of everyday life behind you. For more information about where to visit, contact a member of our team, today.