Nothing says 'romance' like a relaxing weekend away with your loved one. Whether you want a romantic spa break in the heart of the countryside,  spa breaks for two on a luxury golf resort, a two night mini break in a vibrant city spa or a Sunday night special spa break in a stately retreat, enjoy some time out for just the two of you with a sumptuous spa break.
At Spa and hotel breaks, we can help you find the most romantic gesture of all with the ultimate spa deal to suit you and your partner. We offer a wide range of options in all parts of the country – from Edinburgh to Essex and Cumbria to Cornwall – so you can find the perfect place to spoil your partner and enjoy a romantic weekend with a difference.
Ahead of Valentine's Day, here's 8 reasons why a romantic spa break is perfect for a getaway…
1. They're a great way of exploring new places
Whether your idea of romance is a country escape or a glamorous hotel in the heart of the city, at Spa & Hotel Break you'll find romantic spa break hotels all over the country in a wide variety of locations, offering a great opportunity to explore somewhere new whilst also scheduling in some much-needed downtime. You could admire the sights of Bath or Bristol by day, before settling down for the night at a top-class spa hotel,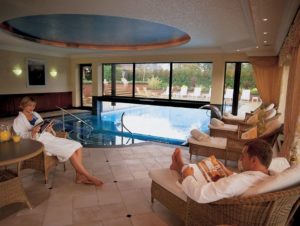 spend a weekend discovering the delights of the North East before dining in sumptuous surroundings, or escape to Chester or Liverpool for some serious shopping followed by a pampering experience to remember. Situated in lively city-centres or glorious countryside retreats, spa hotels offer rest and relaxation in sumptuous surroundings, just a stone's throw from hundreds of fantastic bars, restaurants, shops and attractions. A spa break is more exciting than your average hotel break – and more romantic too!
2. There's more to a spa break than meets the eye
The beauty of a spa break is that it can be tailored to suit the needs of you and your loved one. You could choose a 5-star romantic spa weekend, a luxury two-night spa break, a late spa deal, a one-night mini break or even a simple spa day. Whatever your heart desires, you'll find a host of spa hotels and great spa deals offering a multitude of options. More often than not, your spa package will include full use of the hotel's leisure facilities throughout your stay, so you could take a dip in the swimming pool together, join a group exercise class or simply relax in state-of-the-art Heat and Ice Suites. It doesn't stop there, you'll find spa hotels to suit just about every taste. Love golf? Check out our fantastic range of spa hotels with brilliant golf courses. Love walking? How about a stay in the south of England, where you can explore the coastal paths before booking a pampering pedicure the following day?
3. Spa vouchers are the perfect gift
Spa breaks make the perfect gift and, luckily, you can buy a spa voucher so that you don't have to decide where to go – or what sort of package you want – straight away. If you're too busy to commit to a day or more just now, you can wait and plan the ideal spa weekend together with your partner. With us you can buy spa vouchers for £25, £50, £100, £150 and £200. Better still, our gift vouchers are valid for 12 months and are delivered within 30 minutes by email, so you don't have to worry about dashing to the shops for a last-minute gift idea.
4. Spa breaks are a romantic way to relax
If you and your partner are looking for a relaxing way to celebrate your love, why not invest in a soothing spa treatment on your romantic spa break? Our UK spa hotels offer a wide range of spa treatments and therapies from friendly and fully-trained professionals – so you can choose from massages and manicures, to full body wraps and aromatherapy treatments. You could even request to have your treatments at the same time and in the same room for the ultimate romantic experience. There isn't a more caring gift you can treat your loved one to than spending quality time together on a spa trip.
5. You can enjoy a romantic meal with a difference
No romantic spa break weekend would be complete without an extra-special meal, and many of our spa breaks have a three course evening meal included within your spa package – so you can choose from a mix of freshly-cooked, innovative dishes or more indulgent delights – all for one price.  You'll even get a delicious breakfast the following morning too.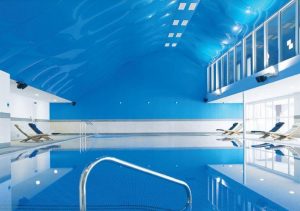 If you're just visiting on a spa day, you and your loved one could relax in the elegant spa surroundings with a hot drink, or an elegant afternoon tea after a spa treatment. Whilst you're tantalising your taste buds with fantastic food, you could enjoy a glass of wine or Champagne too! Spa breaks are all about treating yourself and with brilliant dining options all around, you'll find the perfect spot for that romantic meal.
6. They're an excellent way to escape 
It's no secret that the stresses and strains of daily life can take a toll on our relationships, so a romantic spa getaway is a great way to reconnect with your loved one, whilst spending valuable time together. A spa weekend is intimate and atmospheric: spa hotels are stylish, the bedrooms are cosy and comfortable, and treatment rooms will be filled with warm, calming lights and comfortable furnishings. The facilities will allow you and your partner to spend quality time together – whether it be in a hot tub, sauna, steam room, or over a three-course meal. You'll be able to switch off from work and daily commitments, and enjoy a date with a difference.
7. Spa breaks offer brilliant health benefits
Whilst it's well-known that enjoying a relaxing spa break will reduce your stress and improve your mental health, there are plenty of physical health benefits too. February is a fantastic time to experience a post-winter boost – so romance isn't the only reason to book a Valentine's Day spa deal. Not only will you be able to catch up on sleep and indulge in pampering spa treatments, you'll also be detoxing your body, boosting your immune system and improving your mood and productivity, leaving both you – and your partner – relaxed and rejuvenated!
8. You don't have to break the bank
Flowers, meals and gifts… romantic gestures can be costly, but at Spa and Hotel Breaks you'll find a host of cheap spa deals, last minute spa breaks and great spa offers to suit every budget. Your perfect romantic spa break could be much cheaper than you think! Explore options such as swapping a weekend spa break for a midweek spa deal, or choose a one-night Sunday spa break for a great price. You'll get the added bonus of extending your weekend and trying something a little different, whilst the spa will usually be quieter too. Your hotel is likely to have so many lovely facilities that you won't want to leave, so you don't have to worry about extra costs either – simply make the most of this peaceful haven away from home!
For a romantic retreat of complete and utter bliss, whether it's for a few hours or for several days, let us find the perfect UK spa break to suit you. Call us on 0800 012 200 for bookings and advice.