The days are getting shorter, the weather is getting cooler and the leaves are beginning to change to that glorious shade of orange. Autumn is well and truly on its way and there has never been a better time to book a city spa break. From exciting sightseeing to relaxing weekends away, city spa breaks offer a perfect combination of exploring and pampering – with a huge variety of options to suit all tastes and budgets.  There's no better way to rest and recoup after a busy day discovering a bustling UK city than with a soothing spa session back at your hotel.
So whether you're looking for a stylish spa deal in the heart of Manchester, an elegant spa hotel in beautiful Bath, or a characterful spa break in charming Chester, there are plenty of options to consider when booking your next city spa and hotel break.
Here are 8 top reasons why a city spa break could be perfect for you:
There are plenty of great deals
You don't have to break the bank to have the perfect spa experience. Many city centre spa hotels offer last minute spa deals and cheap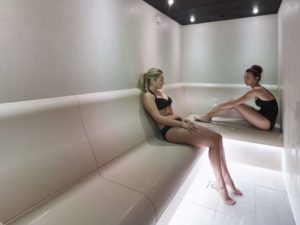 spa breaks that include an overnight stay, a delicious evening meal, full English breakfast and perhaps even a taster spa treatment all for one price. Deals vary depending on location and length of break but if you can be flexible, there are so many great offers to enjoy – such as midweek discounts and Sunday night specials. Sunday night spa breaks usually offer the best value for money and are a brilliant way of extending your weekend with an extra bit of pampering. You can browse hundreds of cheap UK spa deals and low cost late spa deals at www.spaandhotelbreak.co.uk.
Spend quality time with your friends and family
Situated in the heart of vibrant cities, city spa hotels offer rest and relaxation in sumptuous surroundings, just a stone's throw from hundreds of fantastic bars, restaurants, shops and attractions. You could turn your average weekend away into a two-night mini break with friends, follow-up your spa day with cocktails and brunch at a stylish city-centre hotspot, or party the night away before resting and recuperating with a dip in the pool and a relaxing massage the following morning. City spa breaks offer something for everyone.
You can mix sight-seeing with relaxing
The beauty of city spa breaks is that they offer the best of both worlds. Whether you're looking for group spa days, a romantic spa weekend, or a two-night spa break with your loved ones, city spa breaks offer the option to experience all the area has to offer before returning to the comfort of your spa hotel. Why not go sightseeing in the capital before relaxing in a luxury London spa hotel, explore historic Bath or Bristol before enjoying a top-class treatment, spend a weekend discovering the delights of the Midlands before dining in style, or escape to Chester, Liverpool or Edinburgh for some serious shopping followed by a pampering experience to remember.
Spa breaks make perfect gifts
Who wouldn't want to receive the gift of pampering? City spa breaks are an ideal present. They not only provide a great chance to turn a standard city break into a luxurious and memorable mini break, they also offer the ideal chance to explore somewhere new and exciting that your loved one may have always wanted to visit. Imagine discovering bustling Glasgow, fascinating Warwick or vibrant Essex for the first time, with the added luxury of returning back to your hotel to enjoy state-of-the-art facilities such as Heat and Ice Suites, thermal pools and soothing relaxation areas, at the end of the day. Spa and Hotel Break gift vouchers offer maximum flexibility and can be used against any venues on our website.
They offer constant pampering
Just because you're in the heart of one of the UK's most exciting cities, doesn't mean you have to explore what's on your doorstep. Spa hotels are often so full of fantastic facilities that you'll be tempted to remain inside! A city spa break will provide you with some indulgent pampering – think massages, facials and body-wraps galore – leaving you more relaxed than you've ever felt before. Want to reduce your stress even further? Why not check out our luxury spa breaks at some of the country's most luxurious four and five star spa hotels.
City spas have great transport links
Being in the city centre – or even on its outskirts – certainly has its benefits on a spa and hotel break. Excellent transport links are pretty much guaranteed and whether you wish to arrive by train, car or bus (or even aeroplane!), you can rest assured that you'll be able to find the hotel and navigate your way around the city with ease. Most city hotels also have safe and secure car parks nearby.
There will be great food and drink
Your city spa break trip wouldn't be complete without a bite to eat – and, fortunately, our city spas offer incredible, home-cooked food served in elegant surroundings. Many spa break packages have a three course evening meal included – so you can choose from a mix of nutritionally-balanced and healthy dishes, or more indulgent and hearty delights – all for one price. You'll even get a tasty breakfast the following morning too. If you're just visiting on a spa day, relax in the bar post-sauna and enjoy a hot chocolate, or a naughty-but-nice afternoon tea. Savour expertly prepared local produce and perhaps even a glass of wine. Spa breaks are all about indulgence and with great dining experiences all around – you'll never run out of choice!
You'll return feeling rejuvenated
Excessive stress not only affects our mental wellbeing – it causes wear and tear on the body too, which can result in headaches, muscle tension and sleep problems. Worse still, chronic stress raises blood pressure and hormone levels. The moment you step foot in your city spa hotel, you'll feel as though you're entering an oasis of calm and tranquillity. You'll be free to use the facilities at your leisure, book a treatment if you wish, or simply rest and read a good book in the peaceful relaxation areas. Anything that reduces stress benefits our health – and there are few better ways of rejuvenating you mind and body than on a spa break.
Feeling inspired? Get in touch and book your city spa break now.