A short stay Spa break is are one of the best ways to get away from the daily grind and forget about your troubles. The benefits of spa breaks are manifold, but the main attraction for people is that everything is contained in the hotel. You'll find indoor pools, saunas, steam rooms and indoor pools. In fact, you may never want to leave your hotel!
But considering your destination is something you should do carefully. Pick the right place, and you can experience the best of both worlds. Everything a 5-star spa hotel offers, plus day trips around the surrounding area. So what makes a great spa destination? You need to look for somewhere rich in local culture and history. Plus, somewhere that is great for outdoor activities as well. After all, you may need to balance out any overindulging you've been enjoying at the hotel! Not sure where you should go for your next spa break? Here are some of our favourite destinations.
Marrakech, Turkey
The former imperial city of Marrakech is a quintessential Turkish city. And that means there are plenty of Turkish baths that you can try out! Also known as hammams, these are Islamic versions of the traditional Roman baths. They are basically just like a large communal spa! There is a whole treatment process that you will need to partake in. Rather than saunas, the process involves a lot of traditional bathing. The baths are split into male and female areas, both of which are very ornate and feature traditional mosaics and patterns on the walls.
While you are in Marrakech, there is also plenty of things to do other than relaxing in the Turkish spas. Take a trip to the Koutoubia Mosque to discover the history of Islam. There is also a lot more history waiting to be explored at the 19th-century Bahia Palace. When the weather is super-hot, take a refreshing stroll around the pretty Majorelle Garden.
Stockholm, Sweden
The Nordic countries also love their spas. They have been popular with the whole of Scandinavian society for the past 300 years. And the trend doesn't seem to be falling out of fashion anytime soon. Many of the spas in Sweden use natural spring water that is said to have fantastic healing properties. The Loka Brunn spa uses water that is even thought to have soothed a Swedish king's headaches.
Most of Sweden's spas are located in secluded areas of natural beauty. The tranquil areas are thought to promote both mental and physical health. However, there are also plenty of spas in the country's capital city, Stockholm. These are super convenient if you are only in the country for a few nights as you won't need to spend a day travelling to a rural spa. While you are in Stockholm, you could spend some time finding out about the country's Viking heritage at the Vasa Museum. Pop fans will also enjoy the celebrated ABBA Museum.
Spa Break Bath, England
The historic city of Bath was one of the Romans' prized spa towns in England. The ancient Roman spa complex still stands to this day and is open to members of the public. However, it isn't possible to bathe like a Roman in the complex anymore, but you can take a guided tour to learn its history. During the tour, you'll be given the chance to sample the spa water.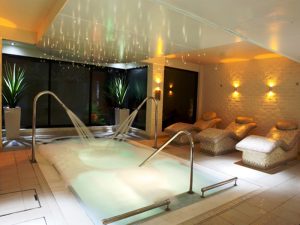 Don't despair that you can no longer take a dip in these ancient baths, though. There are still many spa hotels dotted throughout Bath. There is also a great choice of day spas that you can visit during your trip. And, like all popular spa destinations, there is plenty more to do in the city than just bathing in a spa. Fashionistas can easily spend a day in awe at the Fashion Museum. The Jane Austen Centre hosts various exhibitions on the famous author.
Baden-Baden, Germany
Located right in the Black Forest, you won't find a spa town in a prettier location. The Romans discovered the healing waters of Baden-Baden over 2,000 years ago. Today, people still flock to the charming town to bathe in its special waters. You'll be spoilt for choice once you land. There are 12 spas to choose from, all of which draw on the natural waters.
Baden-Baden was once known as Europe's summer capital, and many visitors still head there to enjoy the height of summer. The many walking and cycling routes that weave through the Black Forest are very close by. Want to spend a day doing something other than chilling out in the spa? You can while away a few hours in the splendid Faberge Museum which has a fascinating display of the renowned Russian eggs. Baden-Baden also has a fabulous theatre reputation, and there are nightly shows at its Festspielhaus Theatre.
Dublin, Ireland
Ireland's waters are also thought to have natural healing properties. So there is no wonder there are a few spa hotels to choose from in Dublin! And what better way to relax than in a hot pool with a pint of Guinness in your hand?! Once you've had enough of all the bathing, you can head to the city's Guinness brewery to learn about the national drink. Strolling through the city is a great way to soak up the atmosphere of Dublin. And there are also plenty of chances to stop off at a bar for some more Guinness!
Your trip won't just be about drinking and relaxing in an Irish spa, though. There is plenty of culture to soak up as well. The National Museum of Ireland takes a look back on 4,000 years of Irish history. The popular Chester Beatty Library houses thousands of religious and artistic manuscripts.
Think you'll get bored of your spa holiday halfway through it? No chance! Not if you book a week in one of the above destinations. With such a great mix of culture and history, each location is bound to give you plenty of options.