For most of the UK, we've had the much-touted 'Beast from the East' storm blasting us a few weeks back. With even more bouts of cold more recently, this winter's got us all wondering when exactly it's going to end and give way to summer. We've got some kind of strange Indian winter going on!
That's no good! The colder season is good for five things. Halloween, Bonfire Night, Christmas and New Year, and they're all well over and done with. Even the most snow-loving, sledging-inclined individual is getting a bit sick of it all by this point.
Plus, if you're one of the unlucky number of people affects by Seasonal Affective Disorders (or SADs, fittingly), you're going to still be feeling rubbish. Not to worry, there's one thing absolutely everyone can do to perk themselves up, and that's heading off on a spa day.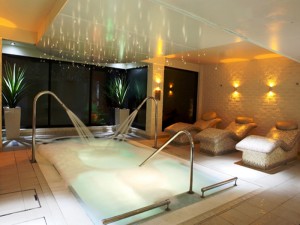 With tons of amazing areas, from cities to countryside, and a wild variety of spa types, from weight-loss to pure relaxation, you're sure to find the perfect option for you. Plus, if you're savvy, they really don't have to cost all that much. Here's why spa break might be perfect for you if you're finding this winter dragging on a little too long. 
Head to Warmer Climes For Spa Deals
 While staying in the UK! Yep, you're not going to anywhere over twenty degrees Celsius, but if you're coming from the grim, dark north of the UK, or one of the other regions that gets hit hard by winter every year, you might want to consider a spa break in one of the warmer areas of the UK. I'm talking the South East, generally, but anywhere south is going to be a little better.
Endless Settings
 We really are blessed here in the UK. We've got an absolute abundance of countryside, and tons of great cities. Whatever you're into, whether that's cocktails and shopping in the city, small-town culture, or rural escapes, the UK has it in spades.
In terms of countryside, we've got some pretty amazing variation. Okay, maybe not quite as good as say, The States, but we're a lot smaller. Barring proper mountains, tundra and desert, we've basically got it all.
From gorgeous and desolate moorlands to sweeping near-tropical beaches, to rugged, hilly terrain, the British wilderness has a lot to offer. Check out the highlands of Scotland, or the moors of Yorkshire, or the beaches of Cornwall. If you're into beautiful views, and maybe a little hiking or outdoor pursuits, this is the kind of spa break for you.
That brings us on to the cities. We've got some truly breath-taking cities here in the UK. Obviously, you've got to start with London, everyone knows how great London is, and exactly how much it has to offer, but did you know Edinburgh ranked extremely highly in the top cities to visit, worldwide? We've got Manchester, Birmingham, Chester, York, and thousand other cities, all bursting with quality culture, shopping opportunities and bars and restaurants. If that's your thing, get looking.
There Are Tons of Different Spas
 On top of all the different areas we have to check out, you can also find loads of different types of spas, meaning you can always find the right one to suit you and your goals. Trying to shed a few pounds? Go for a weight-loss spa. Struggling with stress and anxiety? Head off to a relaxation, meditation or yoga spa? Male?! There are even specialist spas for men now.
In essence, no matter what you're after, you can find it. The perennial effeminate spas, catering in beautification, pampering, de-ageing and relaxation are still there, and they're better than ever, but spas have realised it's not just one type of woman that wants to go on spa breaks anymore, it's everyone. 
Spa Breaks Do Not Have to Cost a Bomb
Another huge misconception people have about any kind of quality spa break is that it absolutely has to cost a ton. That's simply not true. The number of quality spas around the country has driven down the price, and when combined with voucher and coupon websites, makes for an amazing experience, very cheaply.
We're not saying you can't still find the classic, super-expensive, luxury type of spa break, but just that you have endless options nowadays, especially with the net. If you're feeling worn down by the cold, wet and frost this winter, it's time to get planning your spectacular spa getaway.