Relax with Festive Spa Breaks

Gather your friends and family, surround them in tinsel and turkey, drink, eat & be very merry!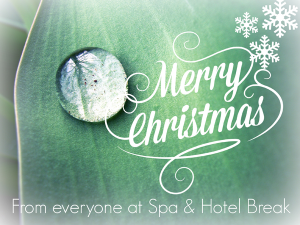 Then, relax! Every year the lead up to Christmas is very exciting but also pretty stressful. What could be more perfect than spa breaks, being pampered and relaxing after such a hectic few weeks? You may prefer to get away for Christmas day or just have something booked to relax after the notoriously busy period!
Christmas Breaks
Filled with fantastic food, themed activities and stunning spa facilities, Christmas spa break might be just what you need this year! Surround yourself with your nearest and dearest, and enjoy a sumptuous Christmas dinner with no prepping carrots or having to wash the dishes! Spa venues are preparing for Christmas months in advance, selecting beautiful decorations and choosing delicious meals. Many spa breaks offer an entertainment, food and fun filled spa experience over the Christmas period. The perfect blend of relaxation and tradition, pampering and luxury! You can simply enjoy the festivities without lifting a finger… except to turn the page on that great novel you've been meaning to start all year!
New Year
Once the festive season is over, thoughts inevitably turn to New Year resolutions. From eating healthily to having a full body detox, January is prime time to get started on the right path for a healthy new year! But does healthy have to be boring? Not anymore! This January cocoon yourself within the warmth and comfort of a stunning spa venue. With nothing to do but lay back, be pampered and truly relax… Doesn't actually sound too bad does it? Instead of spending money on an expensive gym membership that you may rarely use, treat yourself to a spa break that you'll be sure to love.
Choosing where to go
It's at times like this when you realise how valuable the internet is, not only are you spoilt for choice it makes life so much easier too! Avoid the high street travel agents and take a look online at what would work best for you. Being able to speak to someone to offer helpful advice may make the whole process that bit easier for you to. It can be a pretty daunting task trawling the internet, trying to find that perfect venue without breaking the bank. From small intimate venues, to grand manors with a multitude of facilities it's sometimes hard to find the right balance! Firstly, decide if it's a one off treat or whether you would like to make it a yearly or even monthly luxury! Next, decide your budget & preferred locations. City centre venues offer a vast array of activities all generally within close proximity, allowing you to pamper and explore! Others prefer to escape to a secluded rural venue; within the warmth of the spa, looking out at the harsh rain and listening to the whistling wind.
Call Spa and Hotel Break on 0800 012 2000 and let us find perfect spa breaks. Whatever the weather, spas offer a warm soothing retreat from everyday life. Let's get you checked in!